We have developed a range of apps and tools that will help you to stay safe from electrical accidents. They are all free to download and use.
Alexa Skills and Google Home - Product Recall Checker
Our voice app makes it easy for you to discover if you own a recalled electrical item. Simply ask your device to "Open Electrical Safety First" and ask if a product has been recalled. You can give the brand name, or just ask if your fridge, for example, has been subject to a recall notice. 
Find out more here.
Check It Out
To help you shop safely online, our 'Check It Out' tool, free to download on Chrome, Firefox, MS Edge and Safari, will alert shoppers looking to purchase electrical products on Amazon and eBay when they are buying from a third party seller rather than directly from a manufacturer or well-known name.
Socket Calculator
If you're using extension leads to plug more appliances into a socket, our online calculator helps you work out whether you are placing too much of a load on the extension - just because it may have room to plug four devices in, this does not mean it's safe to do so.
Use the calculator, or add it to your own website, here.
Smartphone App
Our new app is currently available for iPhone (iOS devices), the Android version will be released in Summer 2021. It takes a popular content from the Electrical Safety First website and makes it easily accessible when you're "on the go".
You can check for electrical product recalls and save the names of the brands whose products you have in your home so that you'll be notified if a new recall or safety notice is issued.
The app makes it easy for you to register your appliances, it has links to manufacturers' websites. By doing this on your mobile, you don't need to write down the information that's on the appliance and then use your laptop/computer to type in the details – tap it in straight away on your phone.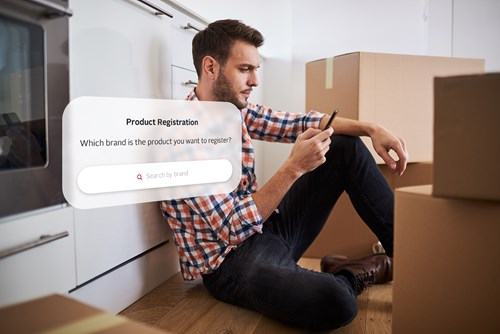 The app also helps you to find a registered electrician local to you or search for answers to your electrical safety questions.
To download, search for Electrical Safety First in the App Store. 
Coming Soon ...
We'll be adding a checklist to the app that helps you undertake a quick visual check of the electrics in your property, letting you know when a potentially dangerous hazard needs to be looked at by a registered electrician. There will also a function for landlords who own multiple properties to save details for each of them.
Find out more about carrying out visual checks on your property here.