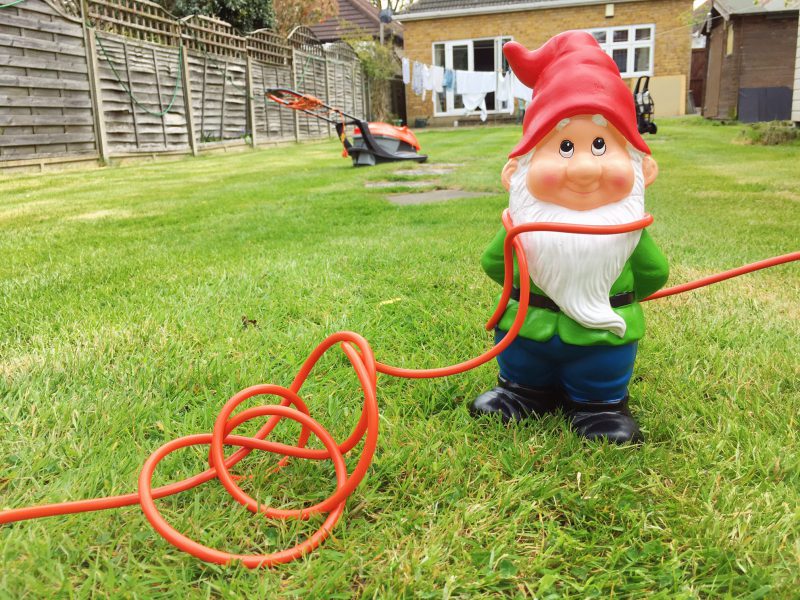 If you're reading this, you survived the Great British Heatwave of 2018. Congratulations!
While we enjoyed the rare sunshine, many of us have been left with dry, parched lawns that even the last few days of rain couldn't penetrate. Now it's time to dust off the garden equipment and whip those brown patches of grass into shape before the next wave of heat hits.
But before you get stuck in with the electric trimmers, take a moment to ensure that you're being as safe as possible.
Whether you plan to plant a vegetable patch, mow the lawn to within an inch of its life or host the perfect outdoor summer party, you're sure to use electricity in some way. Read on to find out how to stay safe!
Use an RCD
Perhaps the most important garden safety advice that we can give is to always use a Residual Current Device (RCD) with all outdoor electrical equipment.
This handy little gadget is designed to prevent you from receiving a life-threatening electric shock if you happen to touch something live, such as an exposed wire. RCD protection can be built into your fuse box or sockets. If you do not have built in protection, a plug-in RCD should be used with any kind of electrical equipment such as lawn mowers and hedge trimmers.
A plug-in RCD can cost as little as £10, and it will be the best investment you ever made for your garden.
Check cables and plugs
Before revving up the lawnmower, it's a good idea to check the condition of your plugs and cables. Frays and kinks are tell-tale signs that the cable needs replacing, while plugs need to be free from damage and firmly wired.
Don't be afraid to throw away any electrical items that are looking a little tired - it's better to spend a little extra money on a safe, working tool rather than risk an electric shock!
Once everything looks to be in good working order, you're ready to go. But wait! Make sure you completely unwind any electrical cables - wound up, they can overheat and catch fire. Not a great situation when the grass is dead and dry…
BBQ safely
As our Australian friends would say, 'Chuck another shrimp on the barbie!'
Well, maybe they don't all say that. But summer is the perfect time to dust off the barbeque and spend the evening grilling hot dogs and burgers. Are you hungry yet?
While barbeques aren't usually electric, it's still important to be mindful when it comes to electrical safety. Make sure to keep anything hot away from the cables for your outside lights, lawnmower or other appliances. You don't want to risk damaging them, or sparking an unwanted fire!
Take care near water
After the much-needed rain last weekend, the ground is still looking a little damp. It probably goes without saying that we don't recommend using electrical equipment in wet conditions - and that includes cutting the grass! The sun will be back in full force this week, so be patient…
Speaking of water, we've noticed that many stores are sold out of paddling pools. They're a great way to keep cool on hot days, but they come with their own safety risks. We advise making sure the kids (and adults) are completely dry before heading into the house to switch on the TV - it prevents damp spots on the carpet, too!
If you're using a phone or iPad to keep the kids amused while they cool down in the water, ensure that it's fully charged before taking it outside. It's extremely dangerous to charge electrical items near water, and could result in a fatal electric shock.
Along the same vein, never clean or maintain electrical equipment while it is still plugged in. It may seem obvious, but it's easy to forget after too much sun!
Play it safe
While a little DIY may seem like a great way to save money, it can play havoc with your safety.
Need outdoor lighting installed, or an electric pump for your pond? Play it safe and call a registered electrician for the trickier jobs. They're insured, so you're protected if anything goes wrong. Plus, their work is regularly assessed and they work to the BS7671 safety standard - you're guaranteed a good job!
With 1/3 of registered electricians reporting that they have seen electric shocks caused by botched DIY, it makes sense to play it safe.
So, where can you find someone who's up to the job? It's easy - our handy tool will find you a registered electrician anywhere in the UK. Sorted!
If you'd like to learn more about electrical safety in the garden, visit our website or tweet us @ElecSafetyFirst with any questions.
Have a great summer!
More posts by Jenna Haldane