New UK Plug Pin Gauge
Electrical Safety First has recently released the new and updated version of the popular UK Plug Pin Gauge tool. This tool, now in a more durable plasticised credit-card format, is intended to help quickly assess whether plugs meet UK standards. The tool has proven extremely popular, with many Trading Standards Officers commenting on how useful they had found those which had already been provided.
As part of Electrical Safety First's work in supporting enforcement agencies a number of these handy tools were distributed to every Trading Standards Office and Fire and Rescue Service centre in the UK, and feedback has been universally positive.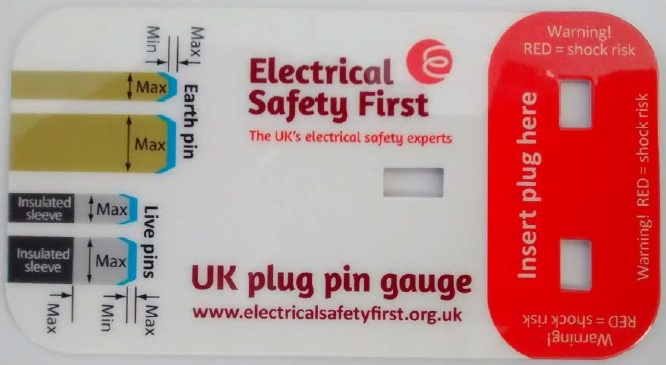 In particular, it was commented upon how having these guidance tools available at all times increased the confidence of officers on the front line in identifying non-compliant, possibly dangerous products, and so have proven extremely valuable.
Whilst these tools are made available at the exhibitions Electrical Safety First attends, such as the Chartered Trading Standards Institute Conference, they are also available by request in bulk directly from Electrical Safety First, although a small charge applies in order to help contribute towards printing and distribution. Any interested parties should contact Electrical Safety First at Enquiries@ElectricalSafetyFirst.org.uk  for further details.