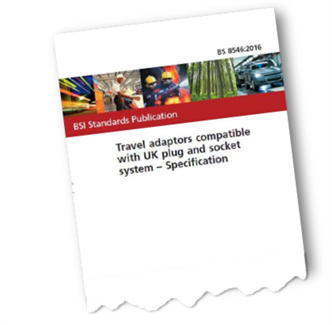 A new British Standard 'BS 8546: 2016 - Travel adaptors compatible with UK plug and socket system' was published in April 2016. As there has been no British Standard specifically for travel adaptors in the past, there is no transition period, and should be applied with immediate effect to the design and manufacture of any travel adaptors having at least one plug or socket-outlet portion compatible with BS 1363 UK plugs and socket-outlets.
Electrical Safety First, along with other interested parties involved in the development of the standard, are keen to promote the use and application of this publication which will address many of the safety issues seen in travel adaptors currently on the market.
Commonly found issues include:
Incorrect dimensions;
Contacts designed to work with a variety of plug types not performing adequately for any plug-pin configuration;
Loss of earth connection;
Voltage conversion, especially those designed for use with both the UK and US systems;
Excessive temperature rise,
Cross-polarity, (swapping of live and neutral) especially those designed for use with both the UK and Australian systems;
Accessibility of live parts - particularly multiple plug and socket travel adaptors;
Dangerous compatibility of incompatible systems.
In recent years, there has been a significant increase in the number of multiple (sometimes referred to as 'universal') travel adaptors designed for worldwide use, and many now incorporate electronic circuitry such as USB charging ports. Despite clear safety requirements through applicable product safety legislation (such as the Electrical Equipment (Safety) Regulations 1994 and the General Product Safety Regulations 2005), over 50 travel adaptors have appeared on the Rapid Alert System for non-food dangerous products (RAPEX) in the past five years. This is due, in part, to the rapidly expanding complexity of travel adaptors (such as the so-called universal travel adaptor with multiple plug and socket interfaces), the unique and particular hazards of which are not being taken into account by producers, and not adequately dealt with by existing British and European Standards. It is anticipated that the new British Standard BS 8546: 2016 will deal with many, if not all, of the safety issues commonly seen in RAPEX listings.
As such, the Standard will, for the first time, provide certification bodies, manufacturers, suppliers and enforcement authorities with a clear specification to agreed safety requirements for travel adaptors of all types (including those incorporating USB charging circuits), ensuring safer compatibility for use in the UK, and by UK consumers worldwide.
In the past, Certification bodies were reluctant to test these products without a standard as the testing must be of such a high level, the cost is prohibitive. This new standard will enable them to provide an effective and cost-efficient testing service. The benefit to retailers will be increased confidence in the products they sell and decreased testing costs.