Events
Electrical Safety First's Events include round table discussions, seminars and our flagship event, the Electrical Product Safety Conference.

Discover the latest good practice advice on product safety, enhance your professional knowledge and hear from experts from sectors in the product supply chain.

For further information about events programme, please contact: ellen.vester@electricalsafetyfirst.org.uk
For the chance to win free tickets (worth £300) to our Electrical Product Safety Conference please sign up to our Events Newsletter by emailing ellen.vester@electricalsafetyfirst.org.uk
Dates For Your Diary
Electrical Installation - The Future Is Now 
Thursday 4 June, St Bride Foundation, London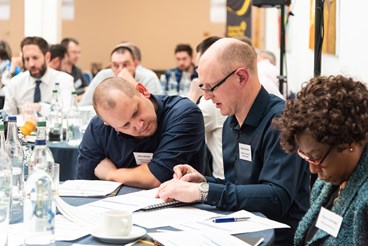 Click the image above for more info.
Electrical Product Safety Conference 2020
Wednesday 4 November 2020, Church House, Westminster
More information to follow. To register your interest, or inquire about speaking and sponsorship opportunities please email ellen.vester@electricalsafetyfirst.org.uk
Safety Innovation Award

Applications for the 2019 Safety Innovation Award have now closed. The winning entry from Vodafone Group Services was announced at our Product Safety Conference.
The Safety Innovation Award recognises and rewards excellence in product safety initiatives within the industry. 
Find out more here.
Continuing Professional Development (CPD)
Electrical Safety First will allocate CPD credits to all its events, based on the number of learning hours. 

We will issue certificates to attendees that attend each event so that they can claim CPD credits for the hours of learning they receive. If you require a certificate then please contact: ellen.vester@electricalsafetyfirst.org.uk

Past Electrical Safety First Events
Click on the link to find out about previous conferences and seminars.