Safe Shopping
Modern homes have more electrical appliances in them than ever before. From white goods to the latest tech gadgets, read our advice to help you shop safe and stay safe once the electrical products are in your home.
To protect yourself, your loved ones and your home from the risks associated with dangerous electrical products, only buy from a retailer that you know and trust. If you buy your electrical products from well-known High Street names or directly from the manufacturer, if something does go wrong, they will be able to help you with a refund or repair.
Register Your Appliances
Electrical products that are sold in the UK are manufactured to strict safety standards, but occasionally something does go wrong. It is vital that you register all of your appliances so that, if there is a problem, the manufacturer knows how to get in contact with you and put it right.
Find out more and register your appliances here.
You can also use our Product Checker to find out if any of the appliances in your home have been subject to a recall or safety notice. 
Counterfeit Electrical Products
Although the majority of people would not knowingly buy a counterfeit electrical product, over 4 million of us have done so in the last year. Most of these fakes are purchased online, where it is impossible to tell whether the product you will receive is the same as the one in the photos, but they can also be frequently found being sold face-to-face at markets, by street traders and in independent shops.
What is a counterfeit?
When we talk about fake or counterfeit electrical products, we mean:
A copy of a well-known brand
A poor-quality product that is made with sub-standard parts that do not meet British standards.
It is easy to associate a counterfeit with shoddy production, packaging filled with spelling mistakes, poorly reproduced logos and a bargain price that is definitely too good to be true. But a lot of counterfeiters are now producing much more sophisticated looking products, selling at a price that is not much below what you would pay for the genuine article, with their true danger only clear when taken apart by an expert. 
Fake electrical devices are prone to failure as they often contain inferior component parts. They are poorly constructed and not tested to make sure they meet British safety standards. As a result, these products present a number of issues. These can range from the trivial, such as a product failing to work as advertised, to the potentially deadly. In the worst case scenario they can deliver a fatal electric shock or cause a dangerous fire.  
Spot the Fake!
There are some simple things to look out for if you are concerned that the product you have bought is not genuine:
Inspect the packaging and item carefully
Look out for the tell-tale signs of flimsy packaging and substandard printing, such as spelling mistakes or grammatical errors. If you're questioning the packaging, compare your item to an online image from a trusted, high street retailer.  But remember, a lot of counterfeit products are not easy to spot, so don't just assume that a product that comes in a glossy package is genuine.
Look for a legitimate safety certification label
All electrical products will have one or more safety certifications on their label if made by a legitimate manufacturer.  The CE Mark indicates that a product conforms with European health, safety and environmental protection standards. It is compulsory on electrical products and should look like this: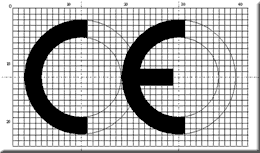 It should be legible and indelible and the centre line of the 'E' should be slightly shorter than the top and bottom.  If the CE mark does not look like this, or if it is only present on the packaging but not on the product itself, there's a good chance that the product is a fake.
Make sure everything that should be there is there
Fake products may not include supplementary materials such as a manual or a product registration card or even all the parts!
Check the plug
If you've purchased your product from a UK retailer, look to see whether the appliance has a three-pin UK plug or charger.
Trust your instincts – you're probably right
If you are still uncertain about your product for any reason, you're probably right to be wary. Don't rely on online reviews – these can easily be faked. Visit the high street to compare your product to those on sale in store; if your item varies in any way do not use it.
Buying Second-hand
If you're buying a second-hand electrical product, you will not be offered the same protection that you would be if buying new from a trusted retailer or manufacturer, there is very little regulation in place to protect you.  From old products with worn out components and lacking essential modern safety features to recalled white goods, when buying and selling it can be all too easy to forget about safety. But you can carry out some simple checks:
Make sure that the product is not subject to a recall by using our Product Checker. The seller might not know if a recall notice has been issued, so do not assume that it is safe.
Never buy a second hand electrical product from an individual private seller – your legal rights are minimal. Buy from an established and reputable business seller.
As with counterfeit products, don't rely on online reviews, these can be faked!
Check that the product comes with all the necessary instructions and parts.
Finally – ask the seller if it is safe to buy, have had a Portable Appliance Test carried out on the product? If they won't say – walk away!