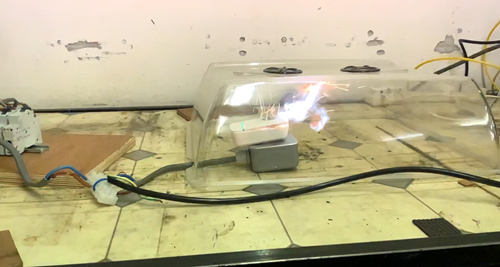 Highly dangerous devices claiming to save on electricity bills are being sold to consumers amidst a cost-of-living crisis a charity reveals.
An investigation by consumer safety charity, Electrical Safety First, unearthed dangerously substandard devices on the market, one of which was brought to the charity's attention by adverts online promoting the devices as a way of making big savings on energy bills. 
The charity purchased 4 samples of plug-in devices purporting to either save energy or 'stabilise electrical current'.
One of these devices was purchased directly from an independent website, GetMotex.com, whilst three other similar devices were purchased via eBay. All four were then sent to an independent lab for specialist testing.
Shocking findings reveal how these devices could cost consumers their safety as all four samples purchased failed basic safety standards, risking fires and electric shock.
Video footage captured during testing shows how devastating these products can be in people's homes as a test designed to demonstrate the product's capability to safely handle a short circuit shows the device exploding, sending fragments of hot glowing metal into the air.
The investigation builds on previous research by the charity a decade ago, which found that not only were similar devices electrically unsafe but previous claims around energy savings unjustified.
Further testing of these latest devices demonstrated basic failures in design, from the size and dimension of plug pins. In one instance the plug pins were so badly positioned that the user risked damaging their mains wall socket in trying to use the device.
Energy saving claims are broadly linked to internal electronic components  called 'capacitors' which can 'smooth the electrical current'. In one of the devices tested the capacitor was not connected internally, rendering the component useless.
The findings come as energy bills sky rocket with the charity concerned exploitative sellers of similar substandard products could be duping consumers and putting them in at risk of electric shock and fire.
Lesley Rudd, Chief Executive of Electrical Safety First commented: "Claims surrounding energy savings will undoubtably be more attractive to people during this time yet the devices we have tested could cost you your safety. Given the current climate and hardship people are facing, the safety failures present in each of these devices are even more contemptible. We urge everyone to buy from a reputable retailer that you know and trust to protect yourself from dangerous goods."
The charity's findings also bring the energy saving claims made about these devices into question leading the organisation to share its findings with the Advertising Standards Authority.
Electrical Safety First has also shared its detailed report with the Office for Product Safety & Standards who immediately asked eBay to delist the product and updated the information on its Product Safety Database.
On contacting eBay the products were swiftly removed for sale. Electrical Safety First was also informed that the marketplace had conducted a further sweep for devices on its platform and subsequently removed 145 listings.
An eBay spokesperson said:
"We take product safety extremely seriously, and welcome the information provided to us by Electrical Safety First about these products. In addition to our block filter algorithms and security teams monitoring the site, we work closely with a wide range of stakeholders to ensure eBay remains free of unsafe products.
"In this instance, our close working relationship with Westminster Trading Standards enabled the swift removal of these products through our Regulatory Portal."
Electrical Safety First also contacted the seller of the unit purchased from GetMotex.com. The Charity shared its findings in full, requested the removal and recall of the product however received no formal reply or confirmation of any action taken. On contacting the website a second time, no response was given. The product purchased via GetMotex.com remains for sale at the time of going to press.

The Charity also discovered imagery being used on the GetMotex.com website, used to promote the sale of one of the devices, was taken from another website altogether. One image purporting to be the founders of the device was discovered to be a Getty stock image. A second image of a woman claiming the device had improved her life, was found to have been lifted from a news article on a completely different matter from 2012.
Electrical Safety First has launched a page focused on the cost of living crisis, offering consumers information on how to stay safe in the home including; online shopping, heating the home and running appliances at cheaper times. For more information visit: www.electricalsafetyfirst.org.uk/costofliving
Notes to editors:
Electrical Safety First is a UK based charity dedicated to reducing injuries and deaths caused by electricity in the home.
4 samples were purchased and tested in an independent specialist laboratory against the safety standard necessary to deem the product safe for the market. All four failed.
3 devices were purchased from the online marketplace, eBay. One further product was purchased directly from a website deemed to be the manufacturer at getmotex.com
Adverts for the Motex device were discovered by the charity, leading to the investigation into the electrical safety of the product.
The advert in question linked to the Motex device claimed to reduce an energy bill from $251 to just $15