Freedom of information requests reveal nearly 7,000 electrical faults identified across more than a quarter of local authority areas since laws were introduced
Nearly 7,000 electrical faults were identified in total across local authorities in England
Shocking imagery reveals some of the hazards electricians discover during the checks
New laws have successfully seen thousands of hazards identified and remedied, making privately rented homes across the country far safer.
Charity calls for the same laws to be extended to social housing sector – where around 4 million homes are at risk
Thousands of dangerous electrical faults have been found in privately rented homes across England in the first year of the laws introduction, a first of its kind investigation has revealed.
Freedom of information (FOI) requests, submitted by Electrical Safety First (ESF) to local authorities in England, reveal the extent of dangerous electrical faults that were found since new laws came into force mandating electrical safety checks in privately rented homes.
ESF analysed the data in the FOI responses provided by the local authorities, including the number of faults recorded and their hazard level. The charity found that a total of 6,863 electrical faults were recorded across 98 local authorities, giving an insight for the first time into the state of the electrics in England's private rental housing stock.
Until the introduction of safety laws, introduced in June 2020, after years of campaigning by ESF, there was no legal requirement for electrical installations to be regularly inspected and tested.
Faults identified were those that required immediate remedial work to ensure that the property and tenants are safe. The most severe hazards are classed as 'C1 – Danger Present', indicating that an immediate risk to the tenants safety is present. The second category of hazards, known as C2, indicate there is a 'potential danger'.
Hazards that would fit into these categories include exposed live wiring, badly damaged plug socket and severe overheating of wiring that, if left undetected, would leave the occupiers at risk from electric shock or fire.
The charity submitted FOI requests to a total of 354 local authorities. Of those, 283 responded. When assessing the total number of faults by severity of the hazards identified data was used from 98 of the local authorities. This is because some local authority data was not granular enough to draw comparisons.
Of the 98 local authorities' data analysed, the areas which identified the most faults and remedial work were Southampton, Kings Lynn & West Norfolk, Uttlesford, East Hertfordshire and the Royal Borough of Windsor and Maidenhead.
Faults across the whole of England could have been as high as 24,000 based on the granular data provided by 98 local authorities, which represents 27% of local authorities in England.
Electrical Safety First believes the findings demonstrate the unquestionable success of the newly implemented electrical safety checks and their ability to identify and remedy electrical dangers that would otherwise have gone undetected, leaving occupiers at risk of serious electrical shock and fire. Under the law landlords are obligated to submit a failed condition report with secondary evidence of remedial work.
However, under the current laws in England these checks do not cover the social housing sector which accounts for around 4 million households.
The charity believes a social housing safety vacuum has been created in England which remains the only nation within Great Britain not to implement five-yearly electrical safety checks for the social housing sector. Such checks are already in place for both the private rented sector and social rented sector in Scotland, whilst Wales has confirmed checks will be legally necessary for both sectors this December.
Lesley Rudd, Chief Executive of Electrical Safety First, commented: "Our findings demonstrate how essential electrical safety checks are in identifying faults and preventing harm. In their first year alone, they have protected thousands of tenants from faults that could have caused serious injury and fire, and helped maintain the condition and safety of landlords properties.
"Such protections from electrical risk should also be afforded to those living in social housing. The millions of social renters in England deserve equal protection and it is time for five-yearly electrical safety checks to be extended to this housing sector. Politicians and landlords should do all they can to ensure everyone in social housing can sleep safe at night without fear of electrical danger."  
Shocking discoveries:
Whilst the majority of landlords do maintain their properties in good condition, safety checks are uncovering shocking and dangerous electrical conditions in some homes. One Southampton based NICEIC electrician shared his discoveries that, without intervention, would have left both the tenant and property at risk.
Images reveal cracked and damaged plug sockets, exposing the tenant to electric shock as well as exposed wiring from light fittings, all putting the property at risk from fire. 
Neill Jenkins, an NICEIC electrician of Jenkins Electrical said: "I find faults during most of the checks I conduct. Some properties I see have hidden dangers which pose a real risk and without the checks could result in a fire or even electric shocks. What I'm seeing in these premises is generally deteriorated wiring and accessories after years of stress on a property that has been left unchecked. The majority of these have probably not been checked for 20-plus years. The checks we carry out will normally pick up anywhere between five and up to 20 faults listed under observations ranging from melted connections inside accessories from loose connections through to general breaches of regulations on earthing issues which could even cause high risk of electric shock in a fault condition. Landlords are generally very pleased to have the problem fixed, it keeps their tenants and the property safe."
                   A                                                        B                                                             
A - Badly damaged RCDs showing signs of severe heat damage risking a fire. Photo credit: Jenkins Electrical                      
B - Damaged and cracked plug socket putting the tenant at risk of electric shock. Photo Credit: Jenkins Electrical
Photographs of other electrical hazards identified show severe heat damage to safety devices such as RCDs (residual current devices). Further fire risks were also prevalent as one cooker switch is removed to reveal a melted, deformed cable which, if left unidentified, would have presented a significant risk of starting a fire in the property. 
                     C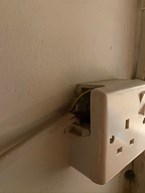 D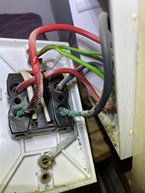 C - A plug socket with dangerous access to live parts risking electric shock. Photo Credit: Jenkins Electrical                              
D - Severely heat damaged wiring behind a cooker switch showing signs of extreme heat damage risking a fire. Photo Credit: Jenkins Electrical
Dangerous electrical conditions are not only being discovered in private rented homes however, photos by electrician group, ECS (Electrical Compliance and Safety) Ltd show severely damaged mains outlet plug sockets and exposed wiring during a social housing inspection which they were able to identify and remedy.
            E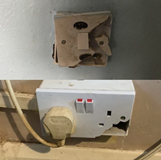 F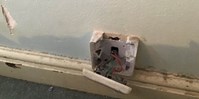 E - Damaged switches and plug sockets in a social rented property Picture credit: ECS (Electrical Compliance and Safety) Ltd                                                                                                   
F - Damaged plug socket in a social rented property Picture credit: ECS (Electrical Compliance and Safety) Ltd 
Whilst some social housing landlords already conduct electrical safety checks at intervals between five to ten years, there is currently no legal time frame in which such safety checks must be routinely conducted, unlike within the private rental sector.
Councils taking action:
Current legislation gives local authorities the power to fine private landlords in England for not complying with safety laws. One incident in Liverpool saw the prosecution of a private landlord by Liverpool City Council following, not only a lack of smoke alarms in the property, but also electrical plug sockets hanging from the walls, exposing wiring.
Shocking imagery (below) reveals the exposed wiring as the socket falls away from the wall posing a serious hazard to the residents. The landlord was fined more than £4,000 for an array of hazards that put the tenants at risk.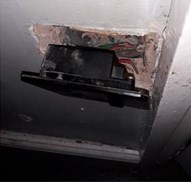 Photo credit: Liverpool City Council
Other local authorities taking action under the new laws to keep tenants safe include Fenland District Council, Cambridgeshire who, since October 2021, have served five civil penalty notices against landlords found to be in breach of the regulation.
The combined total of penalty fines given to these landlords for their failure to comply with the law was £25,000.
Electrical Safety First recommends only using a competent and qualified electrician who is adequately assessed to carry out periodic inspection and testing, such as one registered with a recognised competent person scheme for example NICEIC or NAPIT. 
Electrical Safety First is calling on the Government to extend these five-yearly checks to the social housing sector to end the current tenure lottery on electrical safety once and for all.
Notes to Editor:
Electrical Safety First is a UK charity dedicated to reducing and preventing damage, injuries and death caused by electricity. More information can be found at electricalsafetyfirst.org.uk.
About ESF's Freedom of Information requests and data analysis of the responses
The Charity submitted FOI requests to a total of 354 local authorities in England only.
FOIs were submitted in October 2021 and findings cover faults identified between the implementation of the law in June 2020 to the date of submission of the FOI in October 2021.
Questions submitted were as follows:
"I am writing to you under the Freedom of Information Act 2000 to request the following information specific to your council area:
The number of Electrical Information Condition Reports (EICRs) carried out in privately rented homes that have been submitted to you since June 2020* (please specify the council area you are providing figures for in your response)
Of the EICRs submitted to your council, please break down the number of Category 1 (C1) and Category 2 (C2) failures.
The number of these EICRs that have subsequently had the necessary remedial electrical work carried out to make the installation safe.
* Private landlords are required by law to submit EICRs that have identified C1 or C2 electrical hazards to the local authority, along with confirmation/proof that these have been fixed. This is following the introduction of mandatory five-yearly electrical checks in privately rented homes in England in June 2020.
The Charity submitted FOI requests to a total of 354 local authorities. Of those, 283 responded. However, data was used solely from 98 local authorities to assess the total number of faults based on the local authority supplying granular data on the number of C1 and C2 hazards separately.
Some local authorities failed to provide data that was insufficiently granular to draw comparisons.
To find a registered electrician visiting our page at https://www.electricalsafetyfirst.org.uk/find-an-electrician/