Landlords in England warned they must comply with safety laws or risk fines of up to £30,000
Number of students renting from a private landlord up 6% on last year
Charity issues a list of warning signs for students their rented home may be unsafe
Landlords renting to students have been warned they could face a fine of up to £30,000 if they do not ensure the property is electrically safe, as a new semester begins.
Under laws introduced in England in 2021, privately rented homes must be inspected by a competent person, such as a registered electrician, to ensure they are free from electrical faults that may pose a risk to either the tenant or property itself.
Laws were introduced following campaigning work by the charity Electrical Safety First, following deaths related to electrical faults in rented homes in England.
Richard Harvey, Electrical Safety Installation Engineer at Electrical Safety First, said: "Stereotypes of poor student housing should be assigned to the dustbin of history. Students' homes rented from a private landlord should be just as safe as any other. Whilst many good landlords provide great accommodation to privately renting students, rogue landlords with no concern for safe accommodation need to know the law will catch up with them."
The warning comes as research shows the percentage of students privately renting from a landlord has increased 6% on last year. Research from the Save The Student 2023 national student accommodation survey found that 46% of students said they privately rented form a landlord during term time, up from 40% the previous year.
"Your landlord is obligated to provide you with a copy of the electrical installation condition report proving the property was inspected and is deemed electrically safe prior to your tenancy starting," Richard Harvey of Electrical Safety First adds. "If they haven't, ask them for it. If they fail to supply it, they will be in breach of their duty of care."
Further figures from the Save The Student survey revealed almost 1 in 10 of those surveyed said they have lived in 'dangerous living conditions', whilst 10% said their smoke alarms or carbon monoxide detectors did not work.
Under the law, landlords in the private rented sector must have the electrical installation checked once every five years to ensure it is safe for continued use. This will include fuse boxes (consumer unit) plug sockets, and other fixed electrical installations. Dangerous electricals can pose a risk to a tenant's life with reports of fatalities previously reported.
A freedom of information investigation by Electrical Safety First in the first year of the new law being implemented found that thousands of electrical faults were identified and subsequently repaired, including faults that were deemed the most serious and posed an immediate risk to the tenant or property.
Images, including burnt out plug sockets and exposed wiring, demonstrate just some of the hazards found in both privately rented and socially rented accommodation across the country in recent years during safety inspections.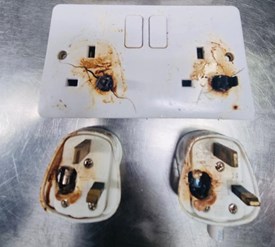 Picture 1: Overloaded sockets and plug tops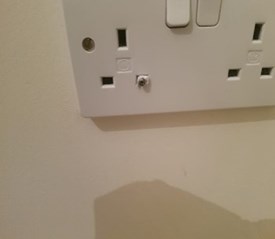 Picture 2: a socket outlet with a plug-top pin
that had broken off the appliance, with the 'live'
terminal accessible to touch.
Shocking signs your rented student property might be unsafe:
For many students it might be their first time renting. Electrical Safety First is urging students not to  ignore concerns with their electrics. Here, the charity provides a list of signs your student home might not be electrically safe:
Yellow sockets – If your plug sockets are yellowing or discolouring in anyway, this could be a sign of overheating and a possible risk of fire waiting to happen.
Lights that continue to blow or flicker – If you're constantly finding yourself in the dark, there is a possibility a loose connection is at fault.
An unpleasant smell similar to fish – Besides what your flat mate might be cooking for lunch, the smell of fish is often associated with the burning smell of sockets or plastic. Don't overlook it, report it immediately to your landlord.
Cracked or broken sockets and switches – Whilst this may seem like a small inconvenience, it is often indicative that the property has not been checked and further much bigger faults could be present.
Damaged or broken 'fixed appliances' – If your fixed appliances such as your fridge, cooker or washing machine are in bad condition, such as damaged or broken switches, it may leave you exposed to live parts, which cause electric shocks.
The electricity keeps tripping – If your electrics continue to trip, you're not tripping, this is an indicator that your circuits are overloaded or that the wiring in the property is deteriorating.
Landlord obligations and rights:
Landlords can expect access to the property for a competent person, such as a registered electrician, to undertake an electrical installation condition report. Landlords can find a registered electrician using our online tool here: https://www.electricalsafetyfirst.org.uk/find-an-electrician/
Landlords must supply a copy of the electrical installation condition report (EICR) to a new tenant before they occupy the premises and to any prospective tenants within 28 days on receiving the request for one. Landlords can find more information here: Landlords Electrical Responsibilities & Legal Requirements | Electrical Safety First
Landlords who fail to have an EICR conducted are in breach of the law and risk fines of up to £30,000 for the most serious of breaches.
Notes to editors:
Landlords can get more advice on our website at: https://www.electricalsafetyfirst.org.uk/guidance/advice-for-you/landlords/
Students can find more guidance online here: https://www.electricalsafetyfirst.org.uk/guidance/advice-for-you/students/
Save The Student survey base figures: The survey received 1,869 cleaned responses. The data wasn't weighted, but the regional breakdown of students in our survey is similar to the actual spread of students in the UK.