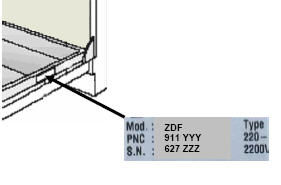 Risk
A component in the identified machines may present a risk of fire.
Description
Zanussi dishwasher machines sold after July 2006.
What To Do
If you have determined that you own one of the affected models, then contact the hotline on 
0800 707 6258 
Between 0800 and 1800 Monday to Friday and between 0900 and 1700 Saturday and Sunday in order to arrange a free visit from a service engineer to resolve the problem.
It is also possible to post the details of your machine to the following address, freepost. Please ensure that details include your name, contact details and the details of the dishwasher.
Freepost RRKT-SHRK-EXKS
Electrolux Helpline
1 Stoke Road
Slough
SL2 5AH
Electrical Safety First recommends that anyone who discovers they have an electrical item that has been recalled should stop using it until it has been checked by the manufacturer.
Model numbers

The model number (Mod), PNC and serial number (S.N.) of the dishwasher is printed on the right side of the dishwasher door, as is shown in the picture.

These numbers can also be found on the instruction book which came with the appliance.

 

BrandModelPNC

AEG ElectroluxF50765911916296

AEG ElectroluxF50765911516005

Zanussi ElectroluxZFS6161911916239

Zanussi ElectroluxZFS6161 S911916240

Zanussi ElectroluxZDF501911516002

Zanussi ElectroluxZDF501 S911516007

Zanussi ElectroluxIZZI ALU911915225

Zanussi ElectroluxZSF6161 N911916260

Zanussi ElectroluxZSF6161 X911916265

 

Only the following serial numbers are affected:

62700001 to 64099999

70800001 to 71699999

 

 

 

 

 

Recall date
01 Jun 2007
Categories
Kitchen Appliances
Brands
Zanussi