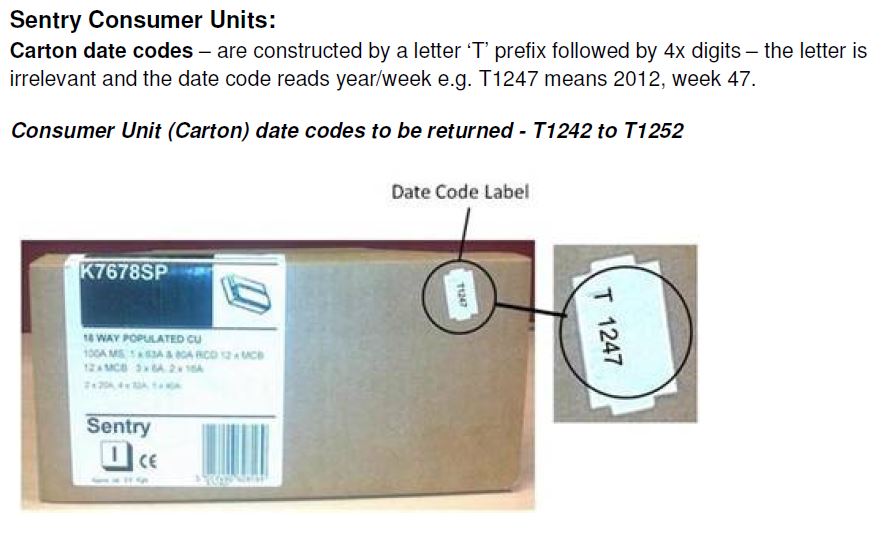 Risk
Connectors may fail and overheat, presenting a fire risk.
Description
MK Switches and Consumer Units delivered between 1st October 2012 and 26th January 2013.
What To Do
For further information, please visit the Honeywell website on this recall at
http://www.mkelectric.com/en-gb/Pages/Product-Safety-Communication-MK-Sentry-Stock-Exchange.aspx
Call the Exchange Hotline on 0800 028 1117, from 8.30am to 5.00pm, Monday to Friday, or email switchexchange@honeywell.com
Electrical Safety First strongly recommends that anyone who discovers they have an electrical item that has been recalled should stop using it until it has been checked by the manufacturer.
Model numbers

Number                                  Description

5500S                                      DP SWITCH DISCONNECTOR

5500SRP2                               DP SWITCH DISCONNECTOR

5500SBQ                                DP SWITCH DISCONNECTOR

5500SRP                                 DP SWITCH DISCONNECTOR

K5566SMAG17ED                 10 WAY SURFACE METAL SPLIT LOAD CONSUMER UNIT

K5581SMAG17ED                 15 WAY SURFACE METAL SPLIT LOAD CONSUMER UNIT

K5583SMAG17ED                 15 WAY SURFACE METAL SPLIT LOAD CONSUMER UNIT

K5586SMAG17ED                 10 WAY SURFACE METAL SPLIT LOAD CONSUMER UNIT

K5666SMAG17ED                 12 WAY SURFACE INSULATED SPLIT LOAD CONSUMER UNIT

K5681SMAG17ED                 17 WAY SURFACE INSULATED SPLIT LOAD CONSUMER UNIT

K5681SP117ED                      17 WAY SURFACE INSULATED SPLIT LOAD CONSUMER UNIT

K5682SMAG17ED                 8 WAY SURFACE INSULATED SPLIT LOAD CONSUMER UNIT

K5683SMAG17ED                 15 WAY SURFACE INSULATED SPLIT LOAD CONSUMER UNIT

K5684SMAG17ED                 13 WAY SURFACE INSULATED SPLIT LOAD CONSUMER UNIT

K5686SMAG17ED                 10 WAY SURFACE INSULATED SPLIT LOAD CONSUMER UNIT

K5686SP1RP17ED                 10 WAY SURFACE INSULATED SPLIT LOAD CONSUMER UNIT

K7663SP                                 14 MODULE POPULATED CONSUMER 1x 63A RCD +6 MCB +2 RCBO

K7664SP                                 14 MODULE POPULATED CONSUMER 2x 63A RCD +6 MCB

K7664SPRP                            14 MODULE POPULATED CONSUMER 2x 63A RCD +6 MCB

K7665SP                                 16 MODULE POPULATED CONSUMER 2x 63A RCD +8 MCB

K7666SP                                 16 MODULE POPULATED CONSUMER 2x 63A RCD +10 MCB

K7666SPRP                            16 MODULE POPULATED CONSUMER 2x 63A RCD +10 MCB

K7673SP                                 12 MODULE POPULATED CONSUMER +6 RCBO

K7678SP                                 18 MODULE POPULATED CONSUMER 2x 63A RCD +12 MCB

K5604SSW                             4 MODULE SURFACE INSULATED CONSUMER UNIT C/W 100A SWITCH

K5608SSW                             8 MODULE SURFACE INSULATED CONSUMER UNIT C/W 100A SWITCH

K5612SSW                             12 MODULE SURFACE INSULATED CONSUMER UNIT C/W 100A SWITCH

K5616SSW                             16 MODULE SURFACE INSULATED CONSUMER UNIT C/W 100A SWITCH

K5686SP117ED                      10 WAY SURFACE INSULATED SPLIT LOAD CONSUMER UNIT

Recall date
12 Apr 2013
Categories
Construction Products
Brands
MK