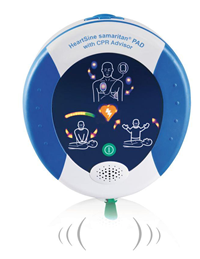 Risk
Risk that the device may fail to deliver the required therapy.
The software in the Samaritan PAD 500P may miscalculate the CPR rate of compression per minute being administered to the patient.
As a result the rescuer may be incorrectly advised by the device to "Push Slower" when, in fact, the CPR rate is at an acceptable level.
Description
HeartSine automated external defibrillator.
What To Do
A software update for the devices has been provided on the HeartSine webpage at 
http://heartsine.com/500p/system-updates/
Please see this link for instructions on how to proceed.
View the field safety notice for more information here:
http://www.mhra.gov.uk/home/groups/fsn/documents/fieldsafetynotice/con383420.pdf
For any questions please contact Aero Healthcare on 0845 604 8280
Do not remove the device from service.

Model numbers

PAD 500P defibrillators manufactured between February 2010 and January 2014

Serial number in the range 10B0010001 to 14B00461703

Recall date
28 Apr 2014
Categories
Health & Beauty
Brands
Heartsine