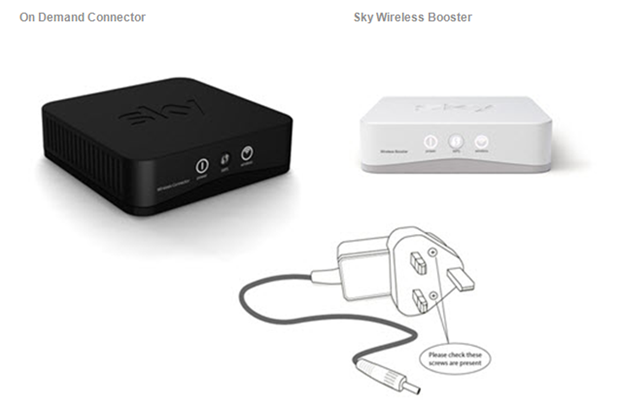 Risk
Risk of electric shock.
The plug for the power adaptor may not have been correctly assembled.  This could mean that the plug may come apart when in the socket, exposing live parts to touch.
Models affected
This recall affects all mains-powered Sky On Demand Connectors and Sky Wireless Boosters
Details
Sky Mains powered on-demand connector and Sky wireless booster units.
Please see images for more details, both units are rectangular plastic-shelled devices either in black or white plastic, with the Sky logo on teh top on three round buttons on the front.
What to do next
Sky has issued the following advice:
How to check whether your unit is affected:
First of all, switch off the electricity at the wall socket
If you don't have a switch at the wall socket, please turn off your electricity at the mains. If you are concerned about doing this then please call us and we'll be happy to help
Carefully unplug the power adaptor from the wall socket
If the power adaptor feels loose or starts to come apart while you're unplugging it, then please check again that you have switched the electricity off at the wall socket or the mains
Once you've removed the power adaptor please check to see if it has both screws fully inserted as per the picture. If one or both screws are missing, do not plug the adaptor back in.
If you find that the adaptor is missing one or both screws, or you have any concerns then please call, free of charge on 08000 152 582 if you are in the UK or 1800 927 494 if you are in the Republic of Ireland, and we will arrange to exchange it for a new unit immediately.
Electrical Safety First recommends that anyone who discovers they have an electrical item that has been recalled should stop using it until it has been checked by the manufacturer.