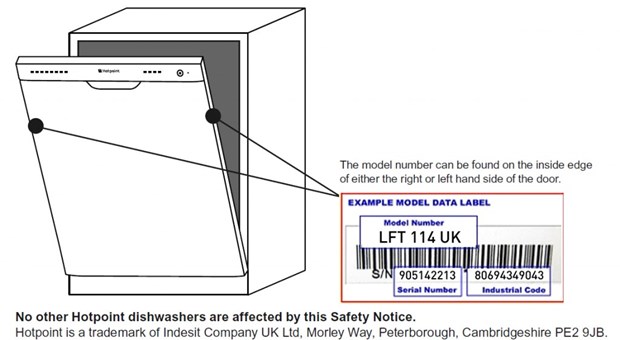 Risk
Risk of Fire.
Models affected
Models currently known to be affected by the action:
FDW70
FDW75
FDW80
FDW85A
Details
Hotpoint EOS platform dishwashers manufactured between January 2008 and July 2010.
No further information has been provided by Hotpoint.
What to do next
Check the model and serial number of your Hotpoint dishwasher. These can be found on a sticker on the inside of the door, as shown in the picture.
Check this serial number using Hotpoint's website, and they will arrange for further action if yours is an affected model.
Hotpoint recall website: http://www.hotpointservice.co.uk/eos/
Service & Repairs – 08448 224 224
Electrical Safety First strongly recommends that anyone who discovers they have an electrical item that has been recalled should stop using it until it has been checked by the manufacturer.