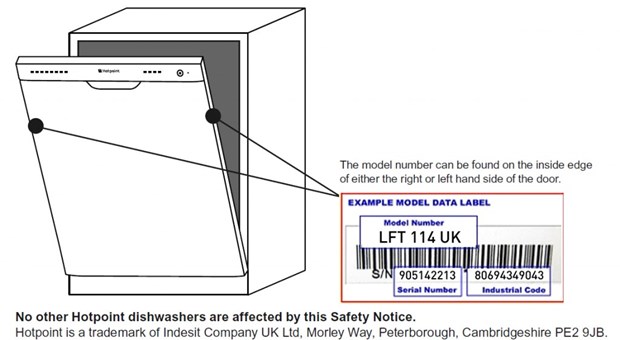 Risk
Risk of fire.
Models affected
ID - DI - DP
Details
Indesit dishwashers manufactured predominantly between January 2008 and July 2010 and sold in the UK.
What to do next
Make sure the dishwasher is switched off and unplugged from the wall socket.
Check the model and serial number, these can be found on a sticker on the inside of the door as indicated in the illustration.
Visit www.indesitservice.co.uk/eos and enter the model and serial number in the search facility to check if your appliance is affected.
Electrical Safety First strongly recommends that anyone who discovers they have an electrical item that has been recalled should stop using it until it has been checked by the manufacturer.