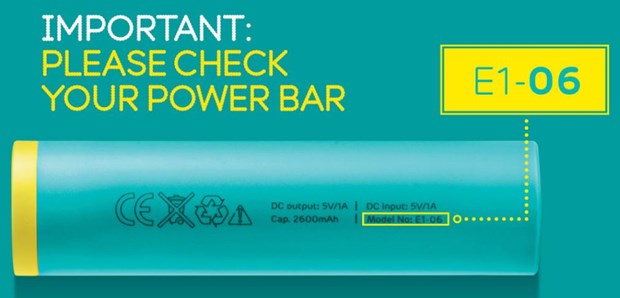 Risk
Risk of overheating and fire.
Models affected
Batch/Model number E1-06
Details
EE Power bars, distributed from EE stores nationwide, batch number E1-06. This number can be found on the side of the device - see images.
What to do next
Stop using any Power Bars from batch E1-06, and unplug them from handsets and the mains at once.
Return the Power Bar to your nearest EE store.
Customers returning batch E1-06 will be issued with a replacement once investigations are concluded. The swap program has been temporarily suspended whilst this recall process is underway.
For more information, please see the EE recall page at http://ee.co.uk/power-bar-recall
Electrical Safety First recommends that anyone who discovers they have an electrical item that has been recalled should stop using it until it has been checked by the manufacturer.