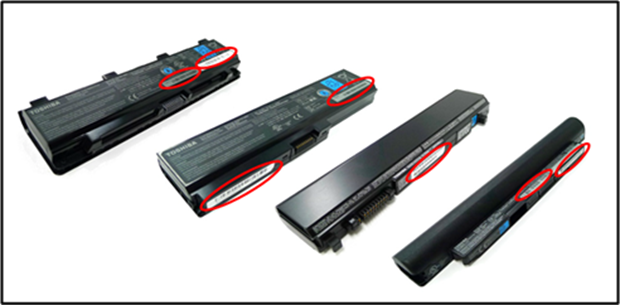 Risk
"In isolated cases, potentially affected battery packs might overheat and could pose a potential burn or fire hazard risk."
Models affected
Portege, QOSMIO, Satellite, Satellite Pro and Tecra model notebooks shipped between June 2011 and November 2015.
For a full list of models and model numbers affected please see the list at:
https://batterycheck.toshiba.com/BatteryUpdate/ModelList?region=TEG&lang=en&country=GB
Details
Battery packs used within certain Toshiba notebook computers shipped between June 2011 and November 2015.
Potentially affected battery packs were sold with new Toshiba notebook computers, as accessories or used as replacement batteries in the course of repair.
What to do next
Check if your battery pack is affected here:
https://batterycheck.toshiba.com/?region=TEG&country=GB&lang=en
"If the voluntary replacement program applies to your battery pack, as a precautionary measure, please turn off the notebook and remove the battery pack immediately. You can continue using and powering your notebook computer with your AC adapter power supply until you receive a replacement battery pack."
Electrical Safety First recommends that anyone who discovers they have an electrical item that has been recalled should stop using it until it has been checked by the manufacturer.