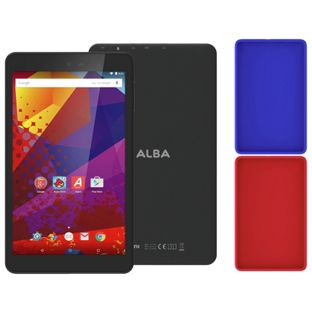 Risk
Risk of electric shock due to possibility that the three-pin attachement on the supplied charger may detach during use, exposing live parts.
Description
Alba 8GB tablets in 7, 8 and 10 inch sizes. See image for details.
What To Do
Argos should contact anyone with an affected model directly. However, if you believe you have an affected 8GB tablet stop using the supplied 3-pin charger immediately, turn off the switch at the plug and remove from the plug socket.
It is safe to continue using the supplied USB cable to charge the tablet from another source.
For any questions please contact Argos on
03456 402 020
Electrical Safety First recommends that anyone who discovers they have an electrical item that has been recalled should stop using it until it has been checked by the manufacturer.
Model numbers

Applies to 3 models of the Alba 8GB tablet sold by Argos:

Alba 7 Inch 8GB tablet

Sold from July 2015 - March 2016

Cat Number 447/8975

Alba 8 Inch 8GB tablet

Sold from October 2015 - March 2016

Cat Number 439/0967

Alba 10 Inch 8GB tablets

Sold from October 2015 - March 2016

Cat Number 297/7533

Recall date
17 Mar 2016
Categories
Audio-Visual And Computers, Chargers & Adaptors
Brands
Alba, Argos