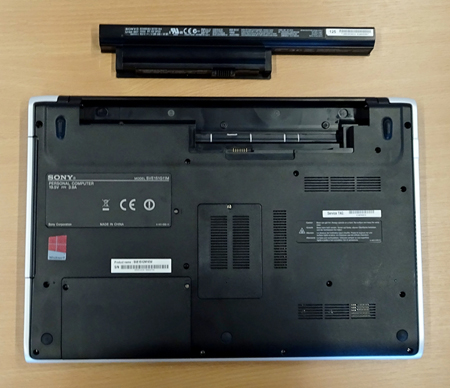 Risk
Risk of battery packs overheating.
Description
VGP-BPS26 battery packs provided by Panasonic and included with VAIO SVE Series personal computers released in October 2012 and certain VAIO personal computers that have been submitted for repair.
What To Do
If you have an affected unit, then please immediately remove the battery pack from your laptop. The laptop can then continue to be used safely with an AC adapter.
Please visit this Sony webpage to check if you have an affected model and for further information:
http://www.sony.co.uk/support/en/content/cnt-hn/prd-comp/battery-pack-vaio
At present Sony expects to post an update by early April 2016 regarding their timetable for providing customers with battery pack replacements.
Electrical Safety First recommends that anyone who discovers they have an electrical item that has been recalled should stop using it until it has been checked by the manufacturer.
Model numbers

Models that may have been sold together with an affected battery pack at time of purchase:

SVE1413 Series

SVE1513 Series

SVE1713 Series  

Models that may have been equipped with an affected battery pack during repair:

SVE1411 Series           SVE1412 Series

SVE1413 Series           SVE14A1 Series

SVE14A2 Series           SVE14A3 Series

SVE1511 Series           SVE1512 Series

SVE1513 Series           SVE1711 Series

SVE1712 Series           SVE1713 Series

VPCCA1 Series            VPCCA2 Series

VPCCA3 Series            VPCCA4 Series

VPCCB1 Series            VPCCB2 Series

VPCCB3 Series            VPCCB4 Series

VPCEH1 Series            VPCEH2 Series

VPCEH3 Series            VPCEJ1 Series            

VPCEJ2 Series             VPCEJ3 Series

           

           

Recall date
02 Mar 2016
Categories
Audio-Visual And Computers
Brands
Sony