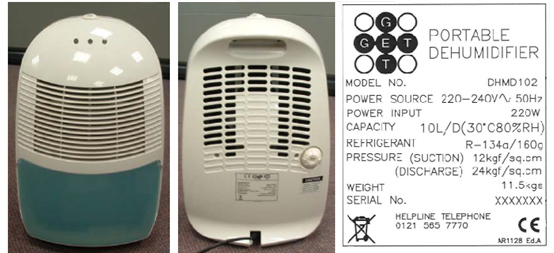 Risk
Risk of fire as product may overheat.
Description
10 litre dehumidifier sold at Argos between June 2006 and December 2008. White plastic body with green plastic water container - see image for details.
What To Do
I you have an affected product please stop using it immediately and return to your nearest Argos for a full refund.
For further information contact the 24hr helpline on:
0800 389 4039
or
0370 242 2993
Electrical Safety First recommends that anyone who discovers they have an electrical item that has been recalled should stop using it until it has been checked by the manufacturer.
Model numbers

Cat, Number 415/0114 or 415/1319

Model number DHMD102

Sold from Argos between June 2006 and December 2008

Recall date
20 May 2016
Categories
Domestic Appliances, General Household
Brands
Argos