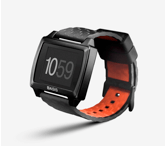 Risk
Risk that watch can overheat in use, causing burns to users.
Description
All Basis Peak watches sold worldwide are affected - see images.
Products were on sale from November 2014 to June 2016.
What To Do
If you have a Basis Peak watch please stop using it immediately.
For a refund, call Basis Peak on
01793 404 925  8:30AM-4PM
Or visit:
https://support.mybasis.com/hc/en-us
Please see
http://www.mybasis.com/safety/
For more information.
Electrical Safety First recommends that anyone who discovers they have an electrical item that has been recalled should stop using it until it has been checked by the manufacturer.
Model numbers

All Basis Peak Watches are affected by this recall

UPC codes:

| Version | UPC Code |
| --- | --- |
| Basis Peak, Silver, United States | 856604003189 |
| Basis Peak, Silver, Canada | 856604003288 |
| Basis Peak, Silver, Europe | 856604003424 |
| Basis Peak, Black, United States | 856604003271 |
| Basis Peak, Black, Canada | 856604003295 |
| Basis Peak, Black, Europe | 856604003431 |
| Basis Peak, Titanium, United States | 856604003349 |

Recall date
03 Aug 2016
Categories
Audio-Visual And Computers, Communication & Media Equipment, Other
Brands
Basis Peak