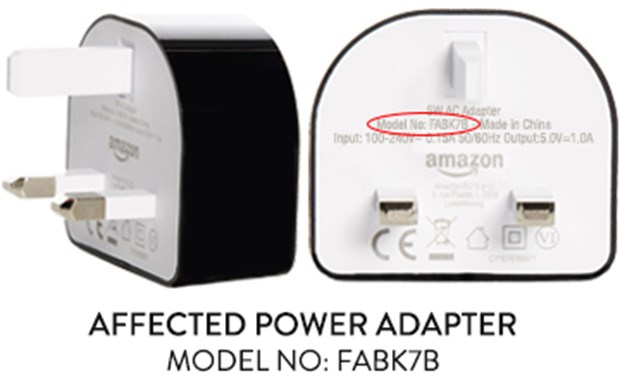 Risk
Risk of electric shock - When pulled from the socket the adaptor assembly may detach, exposing live parts.
Models affected
Model number: FABK7B
Cat No.         Model   
3072499       Amazon Fire 7 2015 8GB Wi-Fi
3300697       Amazon Fire 7 Kids Edition Blue 8GB Wi-Fi
4552860       Amazon Fire 7 Kids Edition Pink 8GB Wi-Fi
5432460       Amazon Fire 7 16GB Black
UK Fire 7" and UK Fire Kids Edition 7" tablet power adaptors sold only in the United Kingdom and Ireland from September 2015.
Power adapters sold in other countries and power adapters shipped with Fire HD and Fire HDX tablets are not affected
Details
3-pin UK power adaptor supplied with UK Fire 7" and UK Fire Kids Edition 7" tablets sold from September 2015 - see image.
What to do next
If you have an affectedproduct stop using it immediately and remove from the mains after ensuring that the socket switch is in the off position.
Amazon is offering two options for replacing the adapter. Amazon can send a free replacement adapter or, alternatively, apply a £12 credit to an Amazon account for purchasing a power adaptor of the customer's choice.
Whichever option is selected, Amazon will be sending the owner a pre-paid return envelope for the return of the original power adapter.
Please contact Customer Service at www.amazon.co.uk/contactus if your power adapter appears to be damaged.
Please visit the Amazon UK page for more details:
http://www.amazon.co.uk/b?node=9730244031&linkId=21803723
Electrical Safety First recommends that anyone who discovers they have an electrical item that has been recalled should stop using it until it has been checked by the manufacturer.