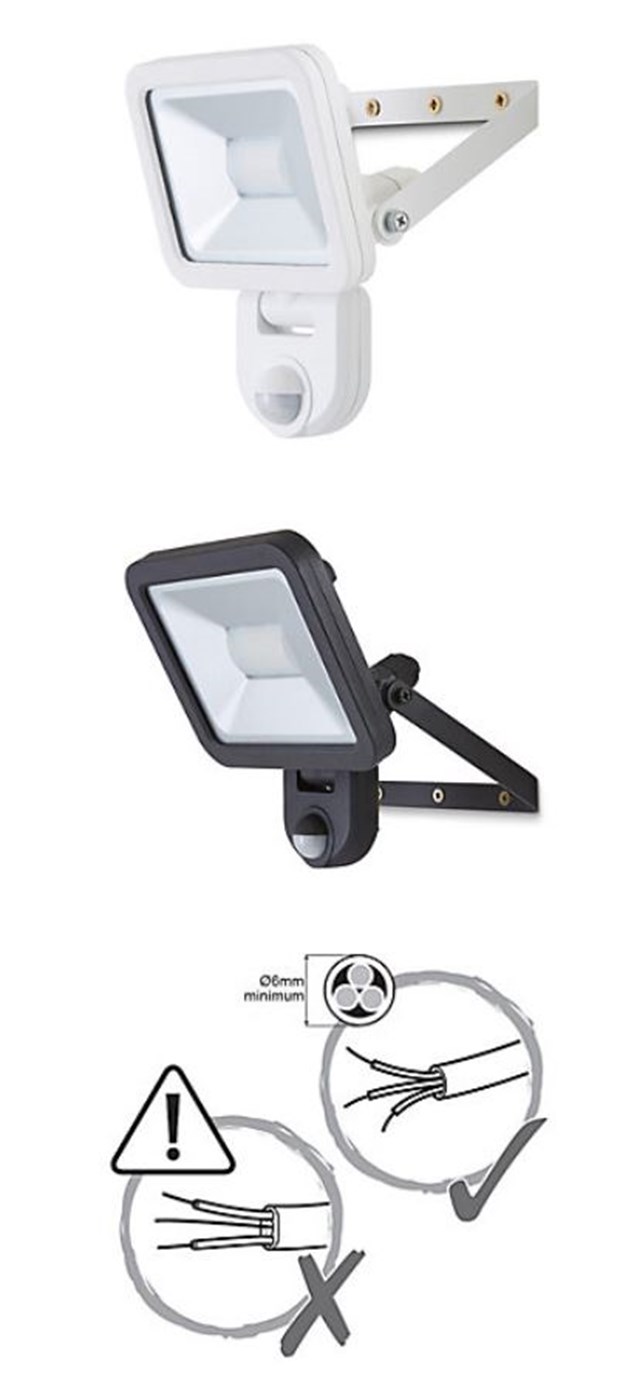 Risk
Risk of electric shock.
It is possible to incorrectly install these products by using the wrong type of cable (flat, twin and earth type).
This may cause the product to be affected by water ingress, potentially causing a risk of electric shock to the user.
Models affected
WEYBURN 10W BLACK 5000K 800LM FLOODLIGHT barcode: 3663602893332
WEYBURN 10W PIR BLACK SECURITY LIGHT barcode: 3663602893349
WEYBURN 20W BLACK FLOODLIGHT barcode: 3663602893356
WEYBURN 20W PIR BLACK SECURITY LIGHT barcode: 3663602893363
WEYBURN 30W BLACK FLOODLIGHT barcode: 3663602893370
WEYBURN 30W PIR BLACK SECURITY LIGHT barcode: 3663602893387
WEYBURN 10W WHITE 800LM FLOODLIGHT barcode: 3663602893448
WEYBURN 10W PIR WHITE SECURITY LIGHT barcode: 3663602893455
WEYBURN 20W WHITE 1600LM FLOODLIGHT barcode: 3663602893462
WEYBURN 20W PIR WHITE SECURITY LIGHT barcode: 3663602893479
WEYBURN 30W WHITE 2400LM FLOODLIGHT barcode: 3663602893486
WEYBURN 30W PIR WHITE SECURITY LIGHT barcode: 3663602893493
Details
Weyburn floodlights and security lights - see images.
Sold by B&Q between August 2018 and December 2018
What to do next
Do not install this product, and if you have installed an affected product stop using it immediately until you have read and understood the installation guidance, here:
Only round 3 core cable, with a minimum 6mm diameter should be used with these products.
Please check with your installer that only the correct cable has been fitted. Prior to inspection or if water is present in the light, switch off power supply. If in doubt on your installation please consult a qualified electrician.​
For more information please call the helpline:
UK: 0300 303 4482 
ROI: 1800 946 327