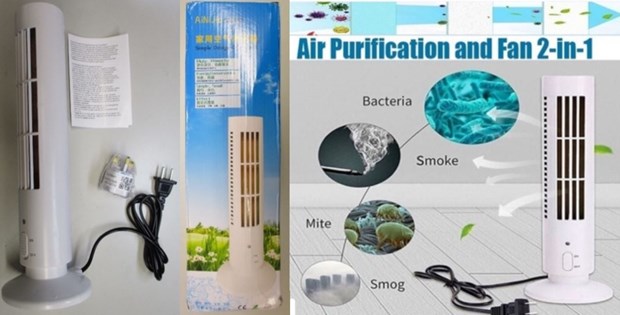 Risk
Electric shock, Fire
Models affected
HC-04
Details
White freestanding air purifier with black electrical lead, 2 pin plug and separate UK adaptor. Packaged in blue cardboard packaging.
The earth bonding in the adaptor plug is also inadequate, and under fault conditions present a serious risk of electric shock. There is poor internal construction with no stress relief for internal connections, which under fault conditions present a risk of fire.

The product does not meet the requirements of the Plugs and Sockets (Safety) Regulations 1994 or the Electrical Equipment (Safety) Regulations 2016.
What to do next
If you believe you have an affected product stop using it immediately and contact the retailer for further advice.
Electrical Safety First strongly recommends that anyone who discovers they have an electrical item that has been recalled should stop using it until it has been checked by the manufacturer.