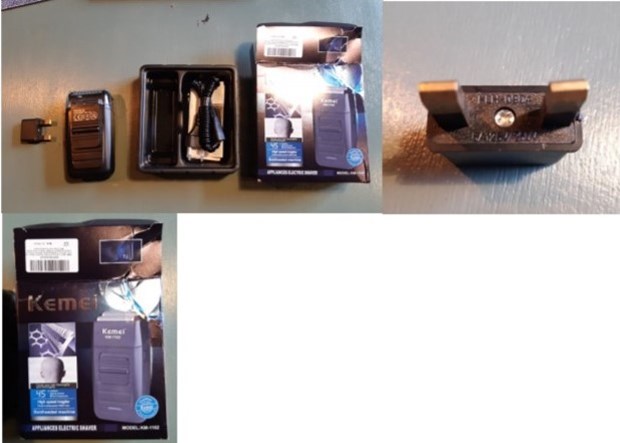 Risk
Electric Shock
Models affected
Model: KM-1102
Adaptor – KLH-0804 6A125V/250V
ASIN: X0016UQGJZ
Details
Kemei appliances electric shaver model KM-1102 220V 50hz 3W packaged in dark purple cardboard packaging, supplied with 2-pin charger and UK adaptor. UK adaptor is missing the Earth pin.
The product is supplied with a UK plug adaptor presenting a serious risk of electric shock. The adaptor does not contain a fuse; does not meet the dimensional requirements of the relevant standard; lacks an Earth pin; and has live and neutral pins that are too small. The adaptor does not meet the requirements of the Plugs and Sockets (Safety) Regulations 1994.
What to do next
If you believe you have an affected product stop using it immediately and contact the retailer for further advice.
Electrical Safety First strongly recommends that anyone who discovers they have an electrical item that has been recalled should stop using it until it has been checked by the manufacturer.