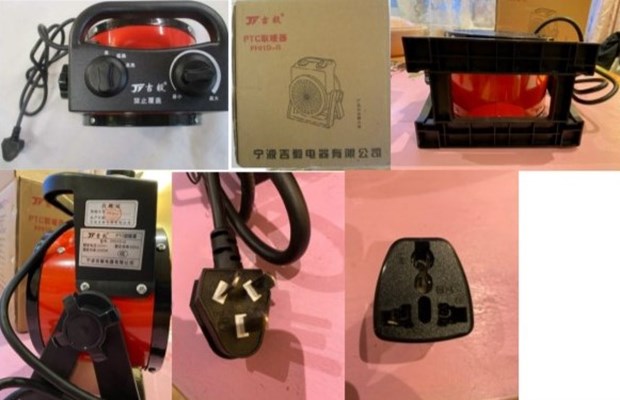 Risk
Electric Shock
Models affected
Model: PF01D-G
Barcode: 6934456700389
Electrical ratings: Input:200VAC 50Hz 2000W Class I
Details
Black and red room/space heater with instruction manual supplied. The product is wired with an Australian plug and UK adaptor. All product labelling is in Chinese and the product is packaged in a cardboard box with an outline of the product on the face.
The product was provided with an Australian plug and UK adaptor which was loosely fitted and did not meet the dimensional requirements of BS1363 as the adaptor's live pin was too close to the outside edge of the plug. The user could touch the live pin when plugging in, or unplugging, the product from the socket, which presents a serious risk of electric shock. The product does not meet the requirements of the Plugs & Sockets (Safety) Regulations 1994.
What to do next
If you believe you have an affected product stop using it immediately and contact the retailer for further advice.
Electrical Safety First strongly recommends that anyone who discovers they have an electrical item that has been recalled should stop using it until it has been checked by the manufacturer.