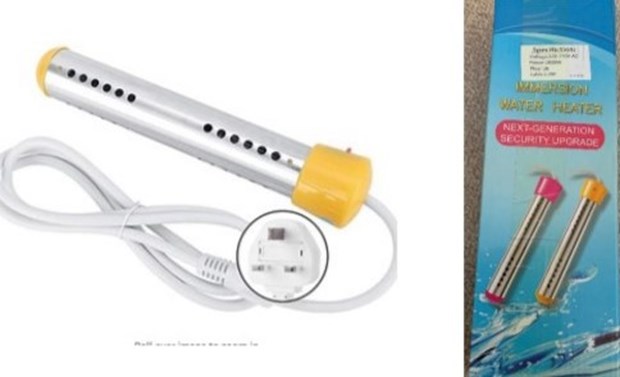 Risk
Electric Shock
Models affected
B07ZH7TDZW
Details
Made of PVC, pure copper and stainless-steel material. 1.5M cable. Product enclosed in a blue, water themed package with a printed picture of two pool immersion heaters.
The main risk identified is electrocution whereby during operation, a live wire inside the product becomes loose and due to the product being unearthed, the product becomes live. If the consumer were to test the water while the heater is still plugged in and submerged in the water, there is the risk of electric shock. The product does not meet the requirements of the Electrical Equipment (Safety) Regulations 2016.
What to do next
If you believe you have an affected product stop using it immediately and contact the retailer for further advice.
Electrical Safety First strongly recommends that anyone who discovers they have an electrical item that has been recalled should stop using it until it has been checked by the manufacturer.