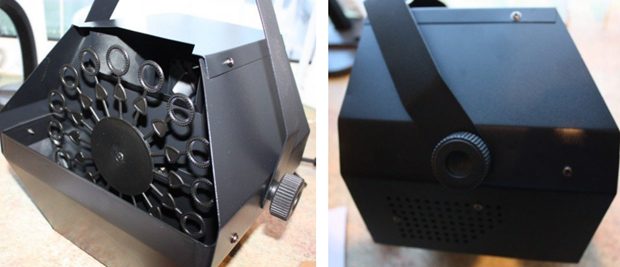 Risk
Electric shock.
Models affected
Model: ZQ-B318
SKU: B07ZYWMPVS
Other product identifiers: RVG256-211203-0004-606 G256-ZQ-B318B-YK-UK-FBA-PVS ZQ-B318B-YK-UK-FBA-PVS
Details
A black cased bubble machine with multiple bubble wands and remote control. 
The product poses a serious risk of electric shock as when tested the earth wire in the supply cord had been left cut off. The product was not earthed and there was basic insulation in contact with accessible live parts. The plug that was fitted on the supply cord did not comply with BS1363 and the fuse did not comply with BS 1362. The fuse was shorter than the minimum length stated in the standard and contained insufficient granular filler, which is required to ensure safe operation in fault conditions. The product was not accompanied by adequate instructions and does not comply fully with the marking requirements of the relevant standard.
The product does not comply with the Electrical Equipment (Safety) Regulations 2016.
What to do next
If you believe you have an affected product stop using it immediately and contact the retailer for further advice.
Electrical Safety First strongly recommends that anyone who discovers they have an electrical item that has been recalled should stop using it until it has been checked by the manufacturer.