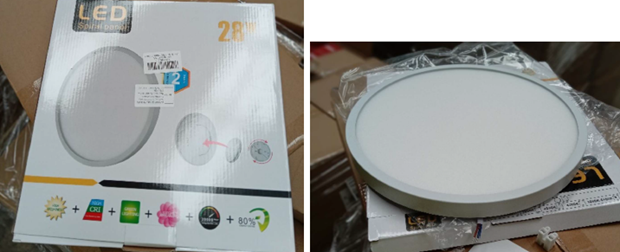 Risk
Electric shock.
Models affected
X001HRCG55
FBA15FMJ0JVVU000012, WKCM-BCL28W
Details
White ceiling mounted luminaire supplied in white cardboard packaging with an image of the product.
The product presents a serious risk of electric shock as the product has not been supplied with adequate instructions and safety information in a language easily understood by consumers on the correct and safe installation and use of the product. A consumer may attempt to install the light without an electrician and get electrocuted if installed incorrectly.
The product does not meet the requirements of the Electrical Equipment (Safety) Regulations 2016.
What to do next
If you believe you have an affected product stop using it immediately and contact the retailer for further advice.
Electrical Safety First strongly recommends that anyone who discovers they have an electrical item that has been recalled should stop using it until it has been checked by the manufacturer.