On International Women's Day, Corporate Communications Manager Penny Walshe introduces you to some of the talented and inspiring women who make up the Electrical Safety First team.
No Job for a Lady!
When I joined the Charity nearly ten years ago, my mother went full 1950s housewife, declaring "Why do you want to become an electrician, that's no job for a lady?"! 
Having started my career at the BBC and then moved into advertising and public relations roles, this seemed like rather a dramatic career change to somebody of my Mum's generation, often brought up to believe that certain careers just weren't an option.
And of course, while I can change a plug I definitely can't rewire a house. My job with the Charity uses all of the creative skills I have developed in my previous roles. I manage the Charity's media and digital campaigns – cutting through the jargon to deliver messages that will resonate with everyone, from young TikTok enthusiasts to older people to whom the concept of social media influencers is just as alien as the idea of me "working with electricity" was to Mum.
Thanks to the support of the Charity, I am now just as comfortable presenting to an audience full of industry professionals at our annual Product Safety Conference as I am performing on stage in a musical, my life's other big passion!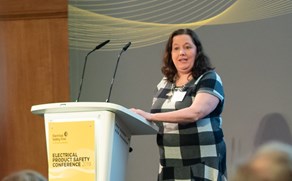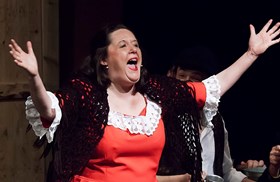 Two very different stages for Penny Walshe, Corporate Communications Manager:
Presenting at our Product Safety Conference and performing as Nancy in Oliver!

Meet the Team
One of the Electrical Safety First's greatest strengths is its people. We're a small team, with 18 members of staff supported by a diverse Board of Trustees made up of 13 people whose skills and experience guide and help the Charity to flourish. And it's a pleasure to work alongside so many talented women. Let me introduce you to a few of the team.
Lesley Rudd, Chief Executive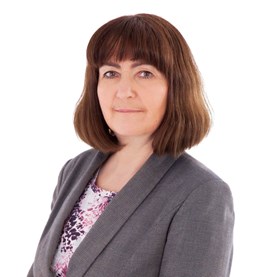 Before joining the Charity at the beginning of 2020, Lesley was Chief Executive of the Sustainable Energy Association. She has in-depth commercial and public affairs experience gained in a variety of roles both in-house and in consultancies, internationally and in the UK. Lesley has  led successful campaigns for policy and regulatory changes in the UK and Brussels and has worked on commercial projects around the world with some of the most memorable being in Kazakhstan, the Philippines, Italy the US and Norway.
Lesley is passionate about safety and the environment (and Newcastle United!)  Her passion for the environment was rewarded when she was awarded an Order of the British Empire Medal in the 2020 New Year Honours list for 'Services to UK energy markets and clean growth'. Unfortunately there have been no medals for Newcastle United for decades!
Speaking about her inspiration Lesley said:
My mother inspired me. She grew up the only female child (three brothers) in a working class family. She believed in equality, democracy and  meritocracy and encouraged my interest in all three. She also allowed me to attend Newcastle United matches on my own from an early age – not sure that was quite as wise!


Kate Husselbee, Trustee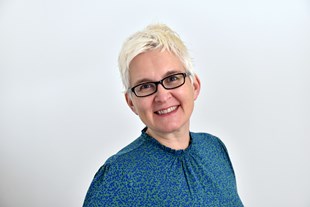 Kate's experience is in people, change, technology and wider corporate services functions in the charity and public sectors.   She is currently the Executive Director of Strategy and Transformation at Rethink Mental Illness, a charity supporting people severely affected by mental illness. Previous roles include Director of Corporate Services and Business Development at the College of Policing, and Director of HR and Governance at the General Dental Council.  Kate is a Fellow of the Chartered Institute of Personnel and Development and an executive coach.
Kate says:
"Early in your career it's critical to feel supported, and I tried to surround myself with like-minded women who I admired for their support, strength and desire to achieve .  I'm not sure if I did so consciously but I know it has been invaluable.  It has helped me to be brave at times, especially when I have needed to challenge others' behaviours .  Helping to create a workplace that encourages self-reflection, development, creativity and humility and where individuals can flourish is so important. As my career has progressed, I have a better sense of who I am as a leader and I try to perform at my best whilst supporting other women along their journey".   

Ellen Vester, Event and Stakeholder Manager
Ellen works in partnership with trade to deliver events that bring together experts and leaders from across the industry to explore critical issues, solutions and insights into safer electrical products. She ensures the event programmes that the Charity delivers are current and on-point. As a female in a traditionally male-dominated technical team, she works hard to ensure our events are as inclusive as possible.
Ellen started her working life on a student visa in an equally male-dominated field - as the first ever female to work at a marquee construction company in Chicago, USA. She learnt a lot but still can't put up a tent.
Prior to working at Electrical Safety First, Ellen took a year's sabbatical to help set up a wildlife park in Tobago to protect indigenous species. Reflecting on the experience, she says:
"Here I learnt so much, including how to film and edit – making short videos to promote the park and its wildlife. I learnt to build enclosures for the animals and organised launch events for local government and tourism figures. The Park reached TripAdvisor No 1 attraction in Tobago and I go back whenever I can to see how they are getting on".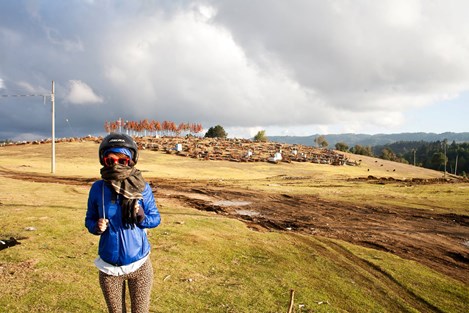 Ellen on her travels - stuck up a mountain with a scooter that has run out of petrol!
These are a few of the inspiring women who make up the Electrical Safety First team. You can meet some more of them here.
More posts by Penny Walshe