Saving money while staying safe: Our guide to safety in the home during the cost of living crisis
The cost of living has put people across the UK under serious financial stress. 
As a result, many are looking to save money on energy bills and reduce their spending overall. Here, we give you some advice on how to keep you, your home and your family safe whilst you look to save money.
'Demand Flexibility Service':
Running Appliances at Cheaper Times: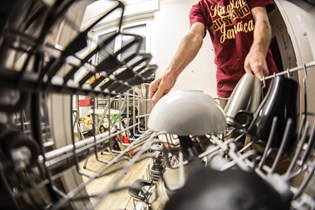 The 'Demand Flexibility Service' is a new scheme developed by the National Grid ESO to help ease pressure on the electricity supply grid by paying households to reduce their energy usage during peak times of the day. This winter,  energy suppliers are able to financially reward  customers  if they run appliances during off peak hours, typically overnight.
Whilst the financial incentives are likely to be attractive to consumers – particularly during the cost of living crisis – there are serious safety concerns that consumers need to be made aware of. Appliances such as washing machines, tumble dryers or dishwashers account for a high proportion of electrical fires in the UK, so it is crucial to mitigate the risk of a fire as much as possible. This is especially the case if a fire starts at night, as response and escape times are obviously delayed if you are sleeping.
To help keep you and your family safe, it is imperative to follow these simple safety tips:
Make sure your home is fitted with working smoke alarms on every floor. Test it regularly – ideally weekly
Register your appliance with the manufacturer so you can be notified if there's a problem.
Do not overload your plug sockets as this can lead to overheating.
Clean all filters regularly as per the manufacturer's instructions .
Check the cables and plugs of your appliances for any signs of wear and tear.
If you're concerned about an appliance in your home, use Electrical Safety First's online product checker to see if it has been recalled.
If you think there might be a problem with your appliance, unplug it and contact the retailer, manufacturer or a qualified repair technician, as appropriate.
These simple checks could save your life.
We are also here to guide you and provide advice on how to save money whilst staying safe during these financially difficult times. For more information, read our Saving Money Safely page.
Electrical Fire Safety Week 2022:
This Electrical Fire Safety Week is unlike any other. The sharp rise in energy prices is pushing more and more people to electric heaters. Our research shows around 4 million more people in the UK are turning to these devices compared with last year.
While electric heaters are not inherently dangerous, they can and do cause devastating fires if they are not used with care, with fan heaters posing an even greater risk.
If you, or maybe someone you know, is considering using one of these heaters, it is vital to know how to use them safely.
Don't just take our word for it, watch the above short film of members of fire services around the UK describe the devastation caused by heater fires they have seen with their own eyes.
For more in depth tips on how to heat your home safely and advice on how to stay safe during these financially difficult times, see below:
How to Heat your Home Safely: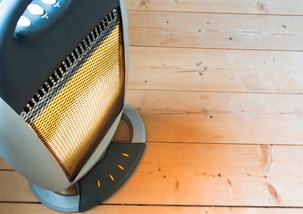 Portable Heater Safety Tips
Put your heater on a level surface, well away from anything that could knock it over, such as a door or where pets are running around
Make sure your heater is at least one metre away from combustible materials, such as paper, furniture or curtains.
Never dry clothes directly on or in close proximity to your heater.
If you need to dry clothes in the same room as your heater or open fire, ensure they are placed well away from the heat to reduce the risk of a fire starting
Never leave your heater unattended whilst in use or while you are asleep
Never power a heater from an extension lead – they can easily be overloaded and cause fires
Regularly inspect your heater for damage and deterioration. If it isn't in good condition, don't use it!
Avoid buying second hand heaters. Make sure you buy from recognised manufacturers and retailers.
Always register a new portable heater (and your other electrical appliances) with the manufacturer. That way you can be contacted easily if a safety notice is issued or recall is required. To find out more information about registering your appliances, visit our Product Registration page.
Use our free online Product Recall checker to see if your portable heater or any other electrical items have been recalled.
How to Shop Online Safely:
While saving money is a priority for many people these days, it shouldn't come at the expense of your safety.
Currently, it is very easy to set yourself up as a seller on online marketplaces such as Amazon Marketplace, eBay and Wish and  there isn't enough regulation to prevent people from using the sites to sell counterfeit and sub-standard electrical products, as well as those that are subject to a product recall due to a serious safety risk.
When buying online, Electrical Safety First recommends purchasing electrical goods from retailers you know and trust, either from the manufacturer's website or from a trusted High Street name.
Spotting a fake product in a listing online can be difficult as the appearance of these are constantly improving or they use fake images. You should be careful not to be taken in by deals that seem too good to be true by sellers looking to exploit the cost of living crisis and take  your money.
You can follow these simple steps to reduce the risk of buying a counterfeit product online:
Know where you're buying from
Make sure you know where the supplier is based, a 'co.uk' URL doesn't guarantee the website is UK based. If there is no address supplied, or there is just a PO Box, be wary; many fake electrical goods are manufactured overseas,  they will not be safety tested and are produced as quickly and cheaply as possible.
When you're browsing an online marketplace, it isn't always obvious that you are not buying directly from the manufacturer or a well known retailer. To make it easier, we have launched a Browser Extension, available on Chrome, Firefox, MS Edge and Safari, that will highlight third party sellers and help you to stay safe when shopping online.
Find out more: 


Check It Out
Download our browser extension 'Check It Out' to help stay safe when shopping on Amazon and eBay.
Don't just take the seller's word for it – or the reviewer's!
Beware of a product with solely glowing reviews, especially if the reviewers aren't verified. Some sites cross-reference user reviews with their buyer database and label those people as "verified purchasers".
Beware of words qualifying an item's authenticity
If the seller claims the product is 'genuine', 'real' or 'authentic' double check the source. Most reputable retailers don't need to sell their products like this.
Don't buy on price alone – not all bargains are worth it!
Some fakes are for sale just below the recommended retail value, hoodwinking shoppers that are too savvy to fall for the 'too good to be true' deals. Make sure you do your homework if you decide to buy products below and certainly well below high street retail prices.
Spot the lock to pay safely
Look for websites that allow you to pay safely – these have a padlock symbol at the bottom of the screen when you are filling in your payment details. If you can't see it, do not enter your payment details.
If you do think you have bought a counterfeit item you can follow the advice in our in depth Safe Shopping Online guide here. 
How to Shop Second-Hand Safely:
Searching for deals and ways to save money, can lead many people towards the second-hand market. it is important to check a number of factors before you purchase any electrical good from a second-hand merchant, either online or in person.
These steps will allow you to reduce the risk of buying a potentially harmful second-hand product:
Check for a recall
You can also use the model serial number present on the product to make sure the product you're buying hasn't been the subject of a recall. Use Electrical Safety First's online product checker to track recalled products. 
Check the plug
If you're purchasing your product from a UK merchant, look to see whether the appliance has a three-pin UK plug, which should also include a fuse. You can use our plug checking tool to help examine this. 
Look for a legitimate safety certification label
All electrical products will have one or more safety certifications on their label if made by a legitimate manufacturer. If the certification mark is present only on the packaging, but not on the product itself, there's a good chance the product is substandard or fake.
Register your product
Electrical appliances should have a model serial number present on the product. You can use this to register it. Registering your product makes it easy for the manufacturer to get in touch with you if it turns out that the item you've bought is somehow faulty or dangerous.
More posts by Electrical Safety First