Product Safety Conference 2019
Thursday 28th November 
Church House, London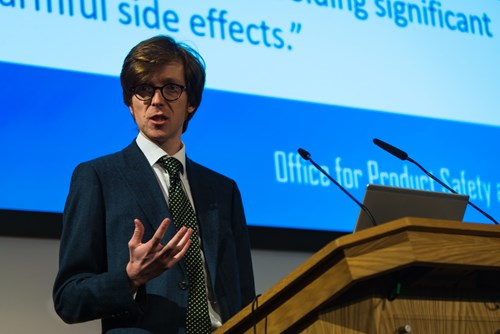 Chaired by Linda McAuley, BBC Radio presenter, On Your Behalf
Join experts and leaders from across the industry.
Explore the study of human behaviour and what it can tell us about safer product design from conception, through manufacture and production to sale.
We will examine how emerging data can inform intelligent product design and look at innovations leading transformation in the way products are designed with future safety at the forefront.
For designers, retailers, manufacturers, product testing houses, regulators, government bodies and safety experts.
Registration open: 
https://www.eventbrite.co.uk/o/electrical-safety-first-10876331082
About the conference
Electrical Safety First hosts an annual, industry-leading, Product Safety Conference. It is now over a decade since we established this event, during which time we have seen product safety embed itself in the political and news agenda. Significantly, many of the subjects introduced at the conference are now being recognised as critical issues.
Each year, the event explores key themes and trends impacting on consumer safety and the electrical product industry, attracting a wide range of delegates - from government departments to manufacturers, retailers, importers, lawyers and test houses. We believe it is this 'broad-church' approach which is part of its appeal – and the fact that we bring to the forefront key and emerging issues impacting on the industry and consumers. So wherever you are in the electrical product chain – or beyond - you'll want to attend! 
Agenda
Coming soon.
Speakers
Linda McAuley
Radio Presenter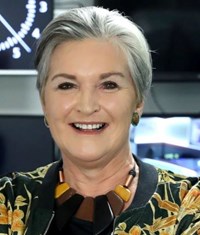 Linda is the award-winning presenter of BBC Radio Ulster's consumer advice programme 'On Your Behalf'.
Linda first joined BBC Radio Ulster in 1978 and since 1995 she has been helping BBC Radio Ulster listeners sort out countless consumer problems on the Saturday morning programme 'On Your Behalf', regularly interviewing Trading Standards, the Consumer Association, Electrical Safety First, ABTA and other leading trade organisations.
In 2006 the Trading Standards Institute named 'On Your Behalf' as the 'Best Consumer Television or Radio Programme', while presenter Linda was awarded 'National Consumer Journalist of the Year'.
In 2018, Linda received an MBE for her services to consumers, the latest honour for her, as she was inducted into the Irish Music Rights Organisation (IMRO) Radio Awards Hall of Fame in 2017.
Martyn Allen
Technical Director, Electrical Safety First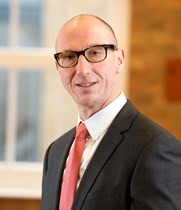 Martyn leads the Charity's electrotechnical team as an impartial centre of excellence for the safety of electrical installations and products - including representing consumer safety interests on a range of British, European and International Committees.
Originally trained as an underground electrician with British Coal, he worked in engineering risk-management with Royal and Sun Alliance for 16 years before joining the Electrical Safety Council (the fore-runner of Electrical Safety First), in 2006. 
Martyn is a Chartered Electrical Engineer and Corporate Member of the Institution of Engineering and Technology (IET).
Judith Peacock
Group Technical Director, Dixons Carphone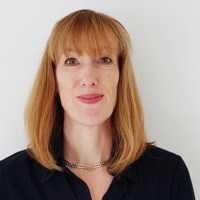 Judith is the Group Technical Director at Dixons Carphone - which includes Currys PC World and Carphone Warehouse in the UK, in addition to businesses in the Nordics and Greece. Her remit includes overseeing the quality and safety of own-label and licensed branded products, responsible sourcing, and health and safety for the UK and Ireland.
Judith has worked in the electronics and electrical industry for over 25 years and prior to working at Dixons Carphone, she was employed by Tesco as a Technical Manager and latterly in after-sales, including customer helpline, repairs and product returns.
Wendy Middleton
Insights Lead, Office of Product Safety and Standards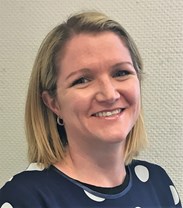 Wendy has worked in the civil service for 15 years. A biologist by background, she started out by managing Defra's animal welfare research programme. She then spent seven years working on bovine tuberculosis, eventually as head of science in Defra's bTB programme.
From there she went to work with Defra's Chief Scientific Adviser (CSA), Professor Ian Boyd, before moving to DECC (now BEIS) in 2015 to work with their CSA, Professor John Loughhead. More recently she was Head of Science for Climate and Energy, before moving to the Office for Product Safety & Standards in August this year, to create and lead their new Insights Unit. She is passionate about developing BEIS' Science & Engineering Network, Women in STEM and the use of evidence in policy making.
To enquire about speaking opportunities please contact ellen.vester@electricalsafetyfirst.org.uk
Sponsors
Coming soon.
For a bespoke, tailored package, please contact ellen.vester@electricalsafetyfirst.org.uk
Who attends?
The Electrical Product Safety Conference is attended by designers, manufacturers, retailers, importers, installers, product testing house, safety advocates, lawyers and enforcement authorities.  The event attracts a senior audience interested in hearing the top insights and strategies in the field of electrical safety.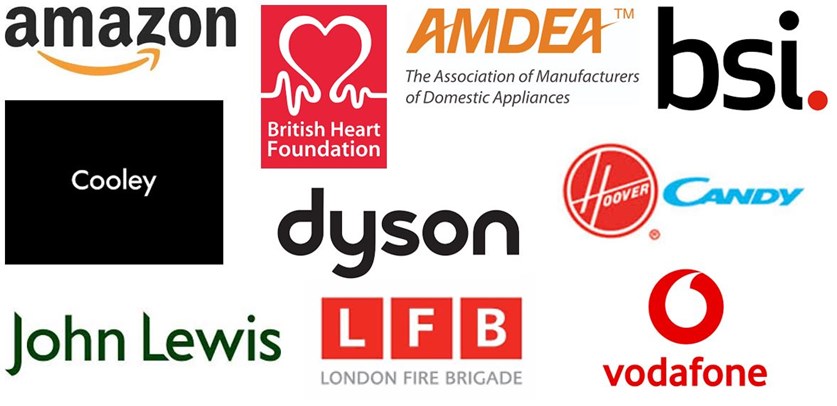 Essential information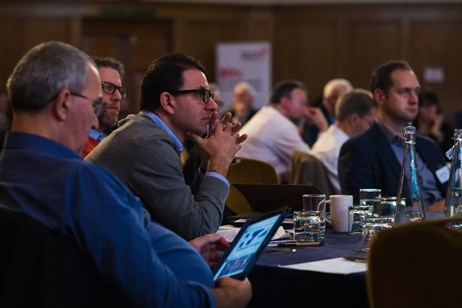 At the Electrical Product Safety Conference 2019 we will discuss the importance of human behaviour in a rapidly changing market and find out how those across the supply chain can use data to innovate and adapt to changing needs – bringing consumer needs to the heart of electrical product safety.
What will I learn at the Electrical Product Safety Conference 2019?
The key theme of the conference is human behaviour: how are designers, retailers, manufacturers lawyers and others in the industry dealing with the changing requirements and demands of consumers.
Who are the key contacts for the summit?
For all event enquiries, please contact ellen.vester@electricalsafetyfirst.org.uk.
How much does it cost to register?
The conference costs are:
Commercial organisation: £300 + VAT & booking fees
Not-for-profit organisation: £160 + VAT & booking fees
How can I register?
You can register easily here to reserve your place and avoid disappointment. 
Can I bring a guest?
Yes, but your guest would need to register and pay in the usual way. Click here to be taken to the booking form.
Where is the conference?
The conference will be held at Church House, Dean's Yard, Westminster, London SW1P 3NZ
The nearest underground stations are St James's Park and Westminster (District, Circle and Jubilee lines) which are both within a ten-minute walk. When you arrive you will see a small archway with a security cabin and a gate, next to Westminster Abbey. Go through the archway into Dean's Yard – Church House is at the end of the yard.
There are sheltered bike racks and cycle bars in the garage available for guests to chain their bikes to. Please ask at reception on arrival for further details.
Can I transfer or cancel my booking?
Transfers and cancellations are not available and tickets are non-refundable.
Can I sponsor the Electrical Product Safety Conference?
Yes -  Please contact ellen.vester@electricalsafetyfirst.org.uk for more information.
Testimonials
"This year's Electrical Product Safety Conference was the best yet. The panels were informative and interesting and we were thrilled to also be awarded with this year's Safety Innovation Award. The fact that our work to improve customer safety has now been recognised by Electrical Safety First is an achievement that we are really proud of."
Andrew Mullen, Beko Plc, Winner of the Safety Innovation Award 2018
 "We're thrilled our WiFi hood received a 'Highly Commended' Safety Innovation Award from Electrical Safety First. Consumer safety is of upmost importance to us here at Hoover and, whilst we pride ourselves on producing innovative appliances, we're really proud that our product has been recognised by the UK's electrical safety experts for its unique safety credentials."
Hoover Candy Group, highly commended for the Safety Innovation Award 2018
"Electrical Safety First continues to deliver excellent work in helping to identify, communicate and reduce the risks associated with electrical products. We believe their campaigns remain important for helping to support product safety, as well as building trust between manufacturers, channel partners and customers."
Paul Hide, Director of Membership and Marketing, TechUK
 "The British Retail Consortium is pleased to support Electrical Safety First, an important partner within the electrical industry, in its activities around raising awareness of the importance of using electrical appliances safely."
David Bolton, Retail Products Policy Adviser, British Retail Consortium
Electrical Product Safety Conference 2018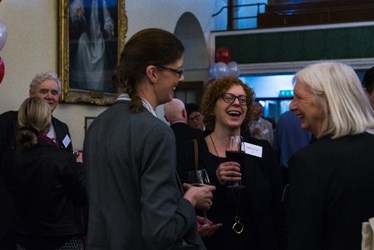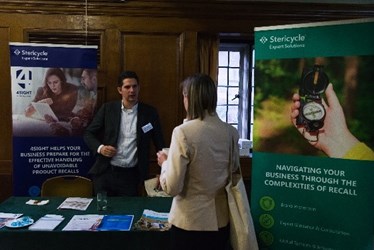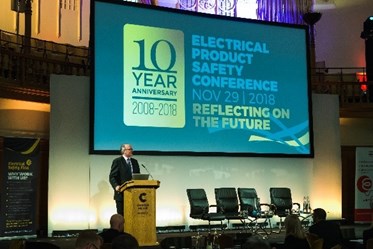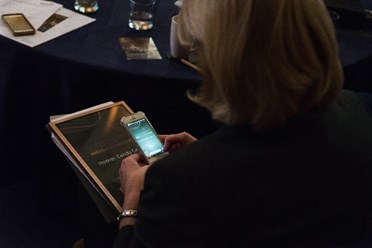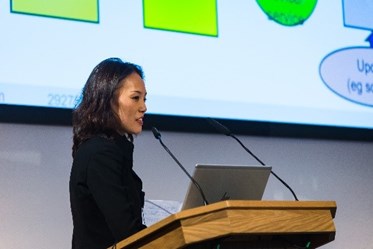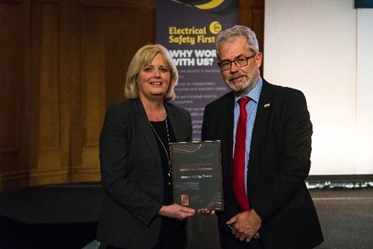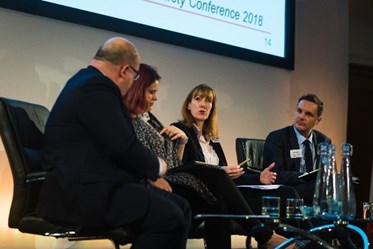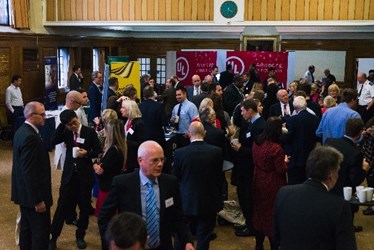 Highlights from the 2018 Electrical Product Safety Conference:
Find out what speakers and delegates thought at our tenth anniversary conference, Reflecting on the Future.