Electrical Safety Week, Wales

Electrical Safety First has lobbied the Welsh Government for the creation of a dedicated week of activities to promote the safe use of electricity in Wales for many years.
In 2019, we launched the first 'Electrical Safety Week Wales', which included a meeting with the Welsh Minister responsible for reducing fires in Wales, Hannah Blythyn MS, and a major event in the Senedd (National Assembly for Wales) to promote the week of activities.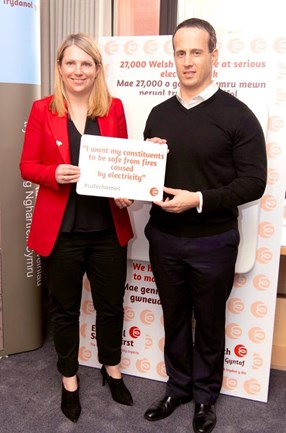 Hannah Blythyn MS, photographed with
Electrical Safety First's Robert Jervis-Gibbons
The week was very successful and received the support of all Fire and Rescue Services in Wales. Our Senedd event was very well patronised with nearly half the Senedd's politicians attending.
These activities have now helped establish an annual event for Wales.
In 2020, Welsh Electrical Safety Week will take place w/c 30th November 2020 – this will include a drop-in event in the Senedd, and we hope the Welsh Government will have an active role in promoting this week.