Electrical Safety Week, Wales

Electrical Safety Week Wales will take place w/c 30th November 2020 – 6th December 2020 and will be an entirely digital campaign this year. We are asking that all Members of the Senedd get behind the campaign. This year we will focus on Welsh consumers buying their Christmas purchases on online marketplaces due to COVID19.
In 2019, Electrical Safety First established a dedicated week of activities to promote the safe use of electricity in Wales. Launched at the Senedd and attended by half of the Welsh Senedd's politicians to promote the week of activities to reduce fires and electrical accidents in Welsh Homes. The week is supported of all Fire and Rescue Services and other stakeholders in Wales.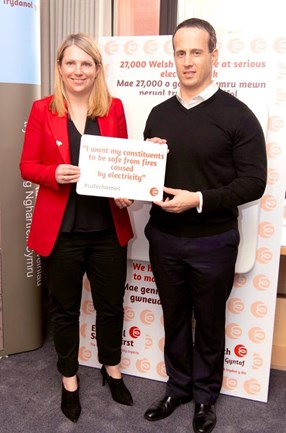 Hannah Blythyn MS, photographed with
Electrical Safety First's Robert Jervis-Gibbons
Wythnos Diogelwch Trydanol, Cymru
Bydd Wythnos Diogelwch Trydanol Cymru yn cael ei chynnal yr wythnos yn cychwyn 30ain Tachwedd 2020 – 6ed Rhagfyr 2020 a bydd yn ymgyrch gwbl ddigidol eleni. Rydym yn gofyn i holl Aelodau'r Senedd gefnogi'r ymgyrch. Eleni, byddwn yn canolbwyntio ar ddefnyddwyr Cymru sy'n prynu eu heitemau Nadolig ar farchnadoedd ar-lein oherwydd COVID19. Am fwy o wybodaeth cliciwch yma i fynd â chi i'n cyngor Cymraeg ar farchnadoedd ar-lein. 
Yn 2019, sefydlodd Diogelwch Trydanol yn Gyntaf wythnos benodol o weithgareddau i hyrwyddo'r defnydd diogel o drydan yng Nghymru. Fe'i lansiwyd yn y Senedd a mynychwyd hanner gwleidyddion Senedd Cymru'r digwyddiad er mwyn hyrwyddo wythnos y gweithgareddau i leihau tanau a damweiniau trydanol yng nghartrefi Cymru. Cefnogir yr wythnos gan yr holl Wasanaethau Tân ac Achub a rhanddeiliaid eraill yng Nghymru.