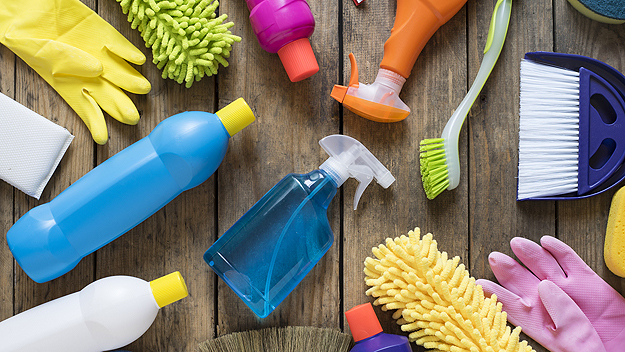 We can't believe our eyes. The sun is finally making an appearance this week - spring is officially here!
Across Britain we're packing away our winter jumpers, switching to a lighter duvet and snapping on a pair of rubber gloves in preparation for the annual spring clean.
We hear that there are some people who actually enjoy cleaning (teach us your ways!) but for most of us, it's a bit of a chore. However, a good scrub can do more than just impress your friends and family - it could actually save your life!
From grime fires to dodgy fridge-freezers, our homes can house a multitude of sins. Read on for our top five spring cleaning tips that will leave your home fresh, sparkling and most importantly, safe!
Scrub the kitchen
Cleaning the oven is the most hated household chore in the UK, according to the Express. Something about scrubbing away bits of food and oil just doesn't appeal to us!
Unfortunately, we can't get away with skipping this one - an unclean oven puts you at a much higher risk of experiencing a grime fire.
What's a grime fire, you may ask? They're the result of dirty and messy kitchens and are caused by the ignition of excess fat left in and around the oven, clutter stored by heat sources catching fire, or by dirt, dust and crumbs blocking ventilation and causing products to overheat.
With over half of all accidental house fires starting in the kitchen, it's vital that we keep this room free from grime and food splatter. Grit your teeth and get the oven cleaner out - you'll be thanking yourself later!
Use appliances safely
Large household appliances such as tumble dryers and washing machines have been making headlines over the past few years, with a record number of them catching fire.
Before you tackle the ever-growing pile of laundry this week, take a moment to ensure that your machines are safe to use. If you haven't already registered your white goods with the manufacturers, spend a few minutes registering them online. Visit our Product Registration page for more information. Registering each of your large household appliances such as dishwashers, tumble dryers and fridge-freezers makes it possible for the manufacturer to easily get in touch with you if it turns out that the item you've bought is somehow faulty or dangerous.
There seems to be a lot of information flying around about white goods at the moment, and it's easy to get confused. That's why we've created a microsite full of all the information you need to keep you and your family safe from electrical fires.
Remember, one big load of washing is better for the environment (and your wallet) compared to lots of smaller loads. Just make sure you don't overfill your machine!
Check it
You don't have to be an electrician to carry out a few simple visual checks around your home. A good spring clean involves more than just vacuuming up the dust bunnies behind the sofa - it's a chance to tackle those niggling little tasks that never seem to get done.
Below are a few checks that you can carry out yourself:
Test your smoke alarms and replace the batteries when required (this should be done once a month!)
Check that you have RCD protection in your fusebox
Make sure that your plug sockets are not overloaded
Ensure your plugs and sockets are not damaged
Check that all cables and leads are in good condition
Check that your light fittings are not visibly damaged and that any downlighters are in good working condition
Check that you are not storing combustible materials around your fusebox, electricity meter or electrical intake
Don't use the top of the microwave for extra storage, as it can overheat and start a fire
Make sure there are no cables trailing under carpets or rugs
Switch off and unplug any electrical items that are not in use (this will save you money on your electricity bill, too!)
Feeling a little overwhelmed? We've developed a free app that does the hard work for you – it highlights potential dangers in each room and explains how to resolve simple, non-technical problems. Of course, if a problem is more complicated then we always advise to call a registered electrician!
Get out in the garden
Have you got a bit of a green thumb? With the return of sunshine and warm spring days, you'll be itching to get outside and spruce up the garden ready for those summer barbeques and sunbathing opportunities.
Before you rev up the lawn mower, consider the fact that 1 in 10 people in the UK have experienced an electric shock or accident in the garden. The top cause? Cutting through the cable of a lawn mower. If you don't have RCD protection, this simple mistake could cost you your life.
Scarily, we've found that over 25% of us have never heard of an RCD. If you're one of them, listen up. RCD stands for Residual Current Device, and is designed to prevent you from getting a fatal electric shock if you touch something live, such as a bare wire. RCD protection can be built into your fuse box or sockets. If you do not have built in protection, a plug-in RCD should be used with any kind of electrical equipment.
For more green-fingered gardening advice, visit our garden safety page. Now, pass the hedge trimmers!
Recycle right
A good declutter can leave you feeling like a whole new person, and the start of  a new season is the perfect time to go through your possessions with a fine toothcomb and be a little bit discerning about what you keep.
With an estimated 1 million tonnes of electrical items thrown away in the UK every year (enough to fill Wembley Stadium six times over!) it's fair to say that we Brits love the expression 'out with the old, in with the new.' But all this waste is completely unnecessary, as almost all electrical items with a plug or a battery can be recycled.
If you're upgrading your large (or small!) electrical appliances, look into ways that you can recycle your old one. It's easier than you think - see below for your options!
Take your item to your local recycling centre - you can easily locate your nearest centre on the Recycle Now website.
Under the terms of the WEEE directive, all retailers must provide a way for customers to dispose of their old household electrical and electronic equipment when they sell them a new version of the same item, either through a collection service or a store take-back scheme. Check with your retailer for details (some may apply charges for the collection service).
Some councils offer a household recycling collection service for small electrical items; contact your local authority for more details. website
We have a page on our website dedicated to recycling electrical items – it's definitely worth a read!
These small improvements to your home will greatly reduce your chances of experiencing an electrical fire.
Do you have a spring cleaning safety tip that we've missed? Tweet us at @ElecSafetyFirst and let us know – when it comes to cleaning, we need all the help we can get. Happy scrubbing!
More posts by Jenna Haldane