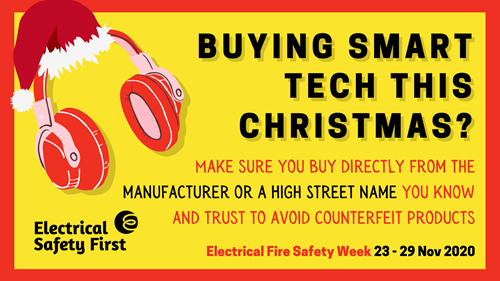 As Black Friday, Cyber Monday and Christmas looms closer, many people are starting to head online to find the latest electrical deals and bargains. More than ever, people are having to rely on going digital to buy their Christmas presents this year due to COVID and the many lockdowns around the country. Our research has found that almost 3 in 5 Brits are planning to shop on online marketplaces this Christmas!
We also found that 9 out of 10 people who said they were planning to buy electrical gifts from an online marketplace also said that they are confident that they will be buying safely. However, we know how easy it can be to be tricked into thinking that the product you are buying is genuine and safe.
Our research has revealed that 1 in 3 admit that they would buy a fake electrical product for a saving of 30% or less. But, as counterfeit and substandard electrical products present a serious risk of fire or electric shock, these deals are definitely too good to be true.
We are urging consumers this year to be extra vigilant when shopping online for their electrical presents to avoid a disappointing and potentially dangerous Christmas.
Here are a few of our top tips for safe shopping online:
When purchasing electrical products online, stick to the stores/websites of known manufacturers and retailers such as those found on the high street, rather than resorting to third party sellers.
Be wary of solely glowing reviews, especially if they aren't verified. Some sites cross-reference user reviews with their buyer database and label those people as "verified purchasers".
Make sure you check that everything looks in order with regards to spelling and design on packaging and instructions, and that all the components that are supposed to be there are in place. Spelling mistakes and incorrect logos are frequently found on the packaging of counterfeit electrical goods.
Look for websites that allow you to pay safely – these have a padlock symbol on your screen when you are filling in your payment details – but don't assume safe payment definitely means your purchase is genuine. Also ensure there is a returns or complaints procedure should you be unsatisfied.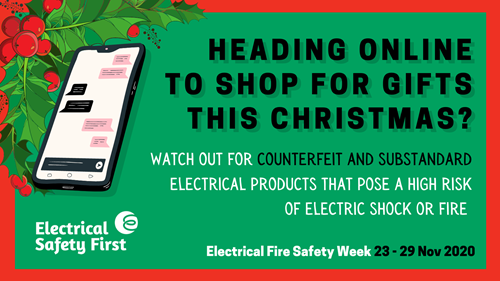 ---
In the UK, online marketplaces such as Amazon, eBay and Wish are not bound to the same laws as traditional retailers. This means that fake and other dangerous electrical products are being sold to unknowing customers. Containing sub-standard or counterfeit parts, they present a serious risk of fire or electric shock. Sign our petition and demand action against the unlawful sale of dangerous electricals.
SIGN HERE: https://www.electricalsafetyfirst.org.uk/stop-the-sale-of-dangerous-electrical-goods-on-online-marketplaces/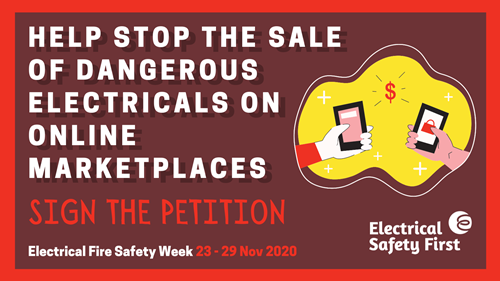 ---
When you're browsing an online marketplace, it isn't always obvious that you are not buying directly from the manufacturer or a well-known retailer. To make it easier, we have launched a Browser Extension, available on Chrome, Firefox, MS Edge and Safari, that will highlight third party sellers and help you to stay safe when shopping online.
Test it for yourself here:


Check It Out
Download our browser extension 'Check It Out' to help stay safe when shopping on Amazon and eBay.
---
For more information and guidance on safe shopping online, visit https://www.electricalsafetyfirst.org.uk/guidance/safe-shopping-and-counterfeit-products/
More posts by Samantha Mager