Posted on by Jenna Haldane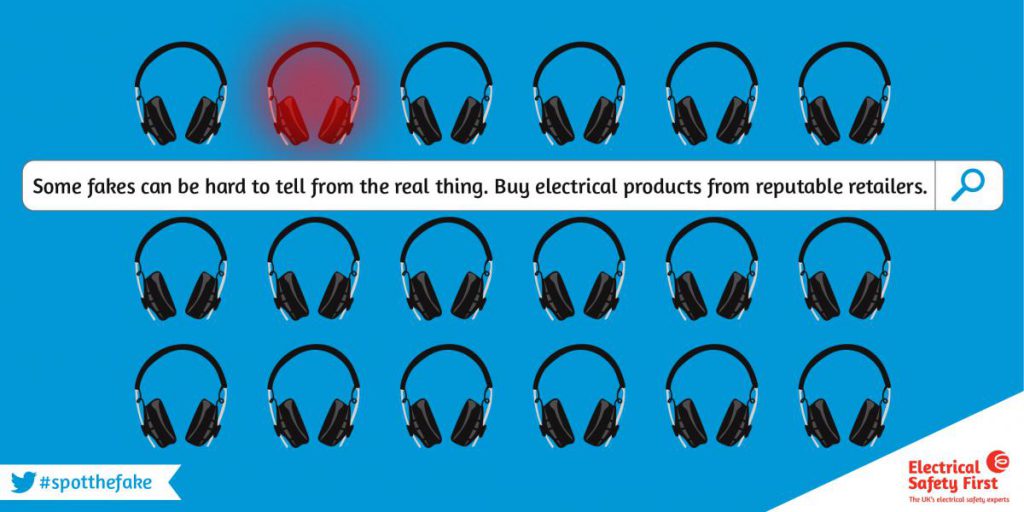 Love it or hate it, you can't deny it - Black Friday is the biggest shopping day of the year.

If you're a bargain hunter, you're probably counting down the days to November 24th. But could your desire for a Black Friday deal be putting you in danger?

These days, it can be almost impossible to tell a fake product from a genuine one. Gone are the days of misspelled names and dodgy logos! When you're out hunting for an electrical bargain, it's crucial that you know how to identify the tell-tale signs of a fake.

So why are counterfeit products so dangerous? It's the internal components that you need to worry about - they aren't made to the same standards as genuine items, so they could catch fire or even explode.

When you buy a fake, at best you're being swindled - but at worst, you could be putting your life at risk!

[embed]https://www.youtube.com/watch?v=Cge0gvHSbi8[/embed]
How can I avoid buying a fake electrical product?
Buy electrical products from reputable retailers - this way you can be assured you're buying the real thing, as some fake products can be almost impossible to identify on online marketplaces.
If you decide to buy on an online marketplace, look for the seller's contact details. If there is no address supplied, or there is just a PO Box, be wary; many fake electrical goods are manufactured overseas, where they will not be safety tested and are produced as quickly and cheaply as possible.
If a bargain looks too good to be true, it probably is! Compare prices and shop around.
Beware of a product with solely glowing reviews, especially if the reviewers aren't verified. Some sites cross-reference user reviews with their buyer database and label those people as "verified purchasers".
Beware of words like 'genuine' 'real' or 'authentic.' Most reputable retailers don't need to use these descriptions to sell their products.
If you can't see a padlock symbol on the bottom of the screen, do not enter your payment details. Look for websites that allow you to pay safely.
How can I check that my purchases are genuine?
Inspect the packaging and item carefully. Look out for the tell-tale signs of flimsy packaging and substandard printing, such as spelling mistakes or grammatical errors. Compare your item to an online image from a trusted high street retailer.
Look for a legitimate safety certification label. All electrical products will have one or more safety certifications on their label if made by a legitimate manufacturer. If the certification mark is present only on the packaging, but not on the product itself, there's a good chance the product is fake.
Make sure everything that should be there is there. Fake products may not include supplementary materials such as a manual or a product registration card or even all the parts!
Check the plug. If you've purchased your product from a UK retailer, look to see whether the appliance has a three-pin UK plug or charger.
Trust your instinct. If you are still uncertain about your product for any reason, you're probably right to be wary. Visit the high street to compare your product to those on sale in store; if your item varies in any way do not use it.

What should I do if I think I've bought a fake?
If you suspect you have purchased a fake, stop using it immediately.
Report it to Trading Standards so that they can take action against the seller; selling fake products is illegal and puts people's lives at risk.
For more information on fake electrical products and shopping safely this Black Friday, visit electricalsafetyfirst.org.uk/spotthefake
More posts by Jenna Haldane