Guidance on Fitting, Use and Maintenance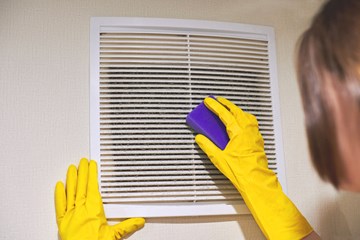 Bathroom extractor fans are designed to extract moisture and other dirty air from your bathroom. However, in doing so they are constantly subjected to contact with dust, floating fibres and other airborne pollution such as insects and hair. Despite improvements in technology, eventually even the best designed extractor fans will suffer a build-up of dust and grime that impacts on both power consumption and performance.
After a while the build-up of dust and grime will clog up your fan's air intake eventually causing the vents to become blocked or even stop the blades from rotating, a partially blocked fan won't be able to extract properly, resulting in moisture and dirty air circulating your bathroom. A blocked fan will overheat causing the back-up thermal cut-out to operate. A blocked or partially blocked fan will also consume more power and create more noise. The resulting increase in bathroom moisture will increase dampness and may promote the growth of mould; this damp and mould can then spread into adjacent rooms or through the floor to the ceiling below.
Fitting Your Bathroom Extractor Fan
We strongly recommend that you use an electrician registered with one of the government-approved schemes to carry out any electrical installation work that you need. Find out more by visiting our Find an Electrician page.
The UK Electrical Wiring Regulations requires a readily accessible and easily operated means of isolation for the maintenance of fixed fans, it also divides the bathroom into three zones relating to their proximity to water sources. This determines which type of fan is allowed to be installed in each zone. Your electrician will be able to advise you on the type of fan that you require depending on which zone it is located in your bathroom.
Maintenance of Your Bathroom Extractor Fan
Before you start – switch off the power, turn the fan off at the isolation switch or if you have an older installation without a separate isolator, turn the power off at the consumer unit.
Do not rely on the light switch when working on your fan. Most bathroom fans have a separate supply which bypasses the light switch for the overrun timer or the humidity sensor therefore it will still be live even if the light switch is off.
Always consult the instruction manual for your specific fan, if you have it, if not, you may be able to obtain a copy on-line, check the manufacturers website or search for your model on-line.
You may need to stand on a ladder and its best to wear gloves, a dust mask and eye protection when performing this task. You should also make sure that the ladder you're using is in good condition and stable.
Carefully clean away any build-up of dust and grime without removing any covers unless advised by the manufacturer that it is safe to do so. Dust inside the unit and the vent pipe. You can use a combination of a duster and vacuum cleaner and for stubborn dust - a set of nylon tube or bottle cleaning brushes may help.
Use a damp cloth to clean accessible covers - an old toothbrush is also a handy tool if the dust is stubborn
Let the fan cover dry out completely before reinstating the power supply.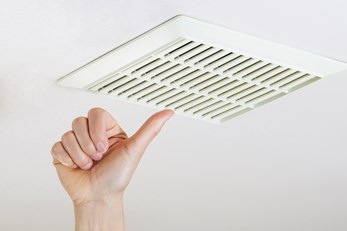 Visual Checks
Do regular visual checks of your bathroom extractor fan; are the blades spinning freely? is it running quietly? if the blades are spinning slowly or it sounds noisy it may need some maintenance. If you notice a burning smell or any unusual noises, or if there are sounds of 'arcing' (buzzing or crackling) or circuit-breakers tripping switch the fan off immediately then contact a registered electrician to investigate.
Which Bathroom Extractor Fan Should I Buy?
Buy the correct type of fan depending on where it will be located in the bathroom.
For example only IPx4 rated SELV fans are allowed in Zone 1, whereas IP2x or IPxxB types are allowed outside the zones. Your electrician will be able to advise you.
Best Bathroom Extractor Fan
The Best Bathroom Extractor Fan to buy is one that you purchase from a retailer you know and trust, like a well known High Street name. Avoid third party sellers on online marketplaces.
Whichever Bathroom Extractor Fan you buy, make sure you register it with the manufacturer so if something does go wrong, they can contact you easily. To register any of your appliances, regardless of age, visit our Product Registration page.
Bathroom Extractor Fan Reviews
If you're buying online, don't rely on reviews as these can be faked by unscrupulous sellers.
Safety First
When buying a Bathroom Extractor Fan, always buy from a reputable dealer, and follow the manufacturer's instructions.
Don't buy a Bathroom Extractor Fan second-hand – there could be hidden problems that you aren't aware of.
Always register a new Bathroom Extractor Fan with the manufacturer. That way you can be contacted easily if a safety notice or recall is required. While the chances of a faulty product causing serious damage are small, the risk is still there and returning a faulty product or ordering its repair is very easy to do. To register all your appliances, regardless of age, visit our Product Registration page.
Use our Product Recall checker to see if you have any recalled electrical items.
Ensure your home is fully protected by an RCD (residual current device), which can be found in your fuse box (also known as a consumer unit).  An RCD is a life-saving device that protects against dangerous electric shock and reduces the risk of electrical fires.
If you don't have RCD protection in your fuse box for your sockets, consider having RCDs installed by your electrician to protect you and your property from serious appliance faults.
Sometimes, appliance fires are caused by something beyond your control. Smoke alarms and heat detectors are essential in keeping you safe by raising the alarm in the event of a fire. There should be a minimum of one alarm/detector per floor and fit enough to cover all areas where a fire could start, and make sure they are tested regularly.
If a fire does start, don't try to fight the fire. Get out and call 999 immediately.