About Our Campaigns
Although our messages are relevant to all UK adults, we use government data, our annual consumer survey and campaign-specific research in order to target niche audiences. Through analysis of detailed regional data, we are able to identify areas more likely to be at risk of specific electrical hazards.
Each campaign incorporates media relations, supported by strong digital content and case studies. Any necessary product testing is carried out by our expert technical team and, where appropriate, we include a clear call to action for Government, in line with our Public Affairs strategy.
Product Recalls and Registration
We worked with high-profile partners to reach wider audiences. A video produced with Beko, "Nan Knows Best" showed a deceptively sweet looking Granny using rather colourful language to offer tips to help people avoid electrical fires and stress the importance of product registration. Promoted across social media, we specifically targeted the Greater Manchester area.
Within two months the "Nan Knows Best" video had been watched 1,729,457 times and following this activity, people in the North West region came out as significantly more likely to register products, with 20% saying that they will always register, against a national average of 12%.
(Source: February 2019 Consumer Survey)
From March 2019 - April 2020, the product recall pages on our website had over 1.6 million visitors, responsible for over a quarter of all website traffic. In order to reach even more people, we have developed an Alexa Skills app, now also available on Google Nest. This makes it easy for people to find out if they own a recalled electrical item simply by giving your device the brand name.
Counterfeit and Sub-standard Electrical Products
The Charity's annual consumer survey showed that in 2018, 64% of consumers who had bought a fake electrical product had purchased it online, with half of these buying from a marketplace. Our campaign
called upon marketplaces to do more to stop the sale of dangerous electrical products.

raised consumer awareness that buying through an online marketplace does not mean you are purchasing directly from the manufacturer and that a large number of dangerous electrical items are available for sale via these platforms.

highlighted the risks associated with fake electrical products.
Thanks to strong media coverage, we were able to take our findings directly to the marketplaces to ensure dangerous listings were removed and to start a dialogue around ways that sites could be better regulated. Amazon Marketplace subsequently introduced Project Zero, an initiative that allows brands to directly remove counterfeit copies of their products from sale. Ebay have also confirmed that they are taking steps to introduce filters that will block dangerous products.
The campaign has also drawn the attention of politicians; with whom we are now working in order to lobby for the introduction of legislation to prevent the sale of dangerous electrical products online.
We have now launched a Browser Extension, available on Chrome, Firefox, MS Edge and Safari, that highlights products being sold by third party sellers on Amazon Marketplace and eBay, helping shoppers to make safe decisions when buying online. 
Hard to Reach Audiences
Our research shows that people aged under 35 have a much lower awareness of electrical safety issues and who are less likely to engage with traditional media relations activity. Specifically targeting students, we visited the University of Birmingham during Fresher's Week to highlight dangers posed by electrical fires by projecting safety messages onto the Halls of Residence.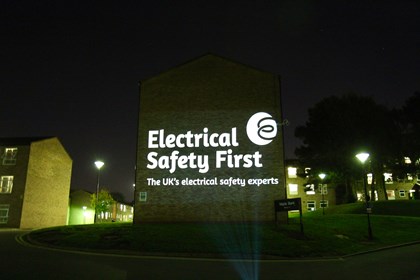 We also targeted this younger audience with a new interactive tool, promoted on Facebook, "How Can It Kill Me?". It allows users to ask about the lethal potential of anything from a hangover to Rhianna, followed up with prompted questions and advice around electrical hazards. Within a week, over 8,000 people had searched over 42,000 times.  We gained an extra 3,000 followers across our social channels and consumer research now shows that 18% of people between the age of 18 and 35 have a good awareness of the Charity, against an average of 14% across all age groups. 
(Source: February 2019 Consumer Survey)