Download our report on the electrical safety considerations for electric vehicle charging in Scotland: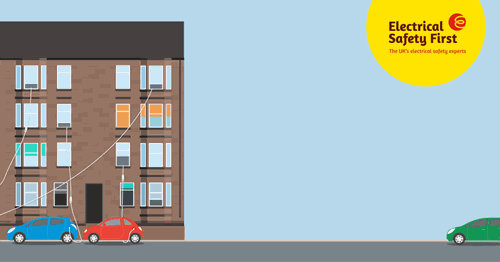 Charging points are being installed at motorway services, railway stations, workplaces, supermarkets and in car parks but drivers expect the convenience of charging their car at home. In fact, it is estimated that 80% of Electric Vehicle (EV) charging will be done this way.
As well as being convenient, home-based charging, particularly overnight, has the advantage of being, in most cases, the cheapest way to recharge. However, research carried out by Electrical Safety First found that EV owners are charging their vehicles dangerously due to a lack of nearby public charging infrastructure or appropriately installed domestic charging points.
Drivers are using domestic multi-socket extension leads, not suitable for outdoor use, to charge from the mains in their home. In our survey, 8 out of 10 respondents in Scotland admitted knowing that these should not be used outside.
Additionally, nearly half of Scottish EV users who charge using an extension lead have left cables running to their vehicle whilst it was raining. All of these practices increase the risk of electric shock and fire.
Whilst new build homes can and must plan for the electrification of transport, existing homes will prove more difficult to adapt. This is particularly the case for residents of flats, tenements and terraced housing which account for nearly 60% of Scotland's dwellings. A lack of available parking options, together with restrictive building regulations and piecemeal local infrastructure delivery plans, will impact on the ability of residents to access safe charging facilities. Tenants also face additional obstacles because of prohibitive tenancy agreements.
We believe national standards should be developed for charging point provision in Scotland with flexibility for local authorities to create policies tailored to local circumstances. It goes without saying that the public network needs to keep pace with demand, and this will require considerable government activity and coordination. However, there must also be a similar focus on removing some of the underlying barriers for drivers living in properties without private parking or inadequate on-street infrastructure. Currently there is a risk that they will resort to unsafe charging practices. More widely, all consumers must be provided with the information required to access qualified and competent installers to ensure high quality and safe installations.
Recommendations
A change to building regulations that requires the installation of dedicated charging points in all new build properties with parking spaces.
Amend the Tenements (Scotland) Act 2004 to allow a tenant or co-owner to install a charging point without having to obtain consent or to ensure that consent cannot reasonably be withheld.
Consider updating the Scottish secure tenancy agreement in liaison with landlords and their insurers to make it easier for tenants to install EV charging points.
Decisions about charging provision should not be made in isolation by local authorities – two-way communication channels need to be established with residents to better understand their specific needs.
Local authorities' delivery schemes must focus on implementing more on-street charging and consider 'Charging Hubs' as part of planning decisions to provide solutions in areas of high density housing.
Use current government policy plans, such as the 'Housing to 2040' Strategy, the new neutral-tenure Housing Standard and the Private Rented Sector Strategy, to increase domestic charging infrastructure opportunities.
Easy to access routes to find registered installers for EV charging points.
To discuss this campaign, please contact Wayne Mackay at: wayne.mackay@electricalsafetyfirst.org.uk