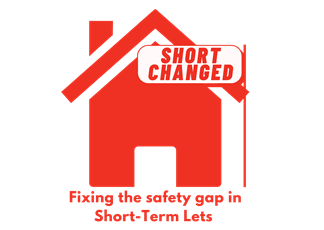 Short-Changed
The Short-Term Let (STL) sector in Scotland has grown significantly over the last few years but it lacks a consistent regulatory safety framework to protect people, property and surrounding communities against the key risks and dangers presented by electricity. Nearly three quarters of all accidental house fires each year are caused by electricity.
In Scotland, housing and electrical safety standards are specific to each tenure and arrangement. This lack of a common electrical safety standard and the absence of a legal definition of a STL adds confusion as to what is required. The majority of STLs are in owner-occupied properties which only have basic electrical safety standards, in contrast with properties offered as private rentals, which have the highest level of protection in Scotland.
Our 'Short-Changed' campaign is calling for STLs to meet the same electrical safety standards as the Private Rented Sector in Scotland. This would ensure that people renting short term have the same safeguards as those renting longer term. There should also be new protections put in place to protect people against faulty and defective electrical products. The combination of these measures would provide safeguards for the owners of STLs by protecting their properties from a range of safety risks.
To read our policy paper on this topic, please visit:  https://www.electricalsafetyfirst.org.uk/what-we-do/our-policies/scotland/policy-papers-scotland/
To discuss this campaign in more detail, please contact Wayne Mackay, Public Affairs Manager, Scotland and Northern Ireland, Electrical Safety First, at:  wayne.mackay@electricalsafetyfirst.org.uk